48 – Dog games – Dog aggression and dominance – Interview with Tenderfoot Training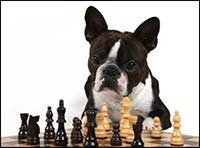 Pet podcast #48 features an interview with our expert trainers Doug and Elizabeth Simpson from Tenderfoot training.  In this podcast we help answer 2 questions posed by members of our pet forum. The first question by Elliesperfect asks about games and interactions with dogs that don't involve training. Elizabeth suggested hide and seek games, tracking, obstacle courses and so much more. The next question answered is by Benmax who asked about the differences between dominant versus aggressive behaviour in dogs. Doug Simpson answers this one by focusing on the basics.
We LOVE comments so if you want to comment on this podcast you can do so here in this blog, in the bulletin board, or just email us at pets.ca (a t) gmail dot com but use the correct email formatting. Of course you can also suggest future podcast topics.
Links mentioned in this podcast:
VHS or DVD set from Tenderfoot training
Original thread that spawned this podcast
Pets.ca forum
Bubble blowing toy
Chuck-it dog toy
You can download this pet podcast directly by clicking the first link in this post link or listen to it almost immediately, with the embedded player below.
Podcast: Play in new window | Download