Tip 75 – Pumpkin for cats – pumpkin for dogs – Pumpkin for diarrhea or constipation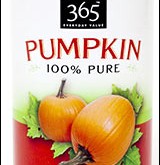 If your dog or cat is having the occasional case of constipation or diarrhea, one of the things that might help is canned pumpkin. Yes canned pumpkin in its pureed form (NOT pumpkin pie filling) is a fantastic stool softener which makes it a good natural remedy for constipation. It often helps with upset stomach or indigestion for both cats and dogs. It is very rich in fibre and adding just one or two teaspoonfuls to your pet's food often gets the system moving in no time. Dogs will occasionally want to eat it directly and that's fine too. Sometimes though, finicky cats and dogs won't touch it no matter what you do.
On the opposite end of things is diarrhea. Since the dietary fibre in canned pumpkin absorbs water, it can be a great help to a cat or dog that has diarrhea. Some pet owners report that it firms up their pet's loose stools or diarrhea within a few hours. Again one to two teaspoonfuls is all that is needed.
N.B. It should be noted that both diarrhea and constipation can both be very serious and require immediate veterinary care depending on the cause. Whatever the cause, diarrhea or constipation lasting more than 24-36 hours requires vet care. Click the following links (in the related articles below) for more general information on diarrhea, constipation and intestinal disorder in cats and dogs.