Toy Manchester Terrier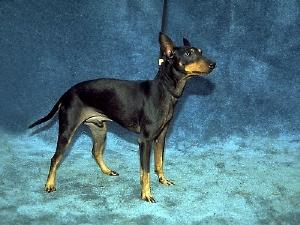 Dog Breed Group

Terrier Dogs

Origin of Breed

Great Britain, companion dog.

Life Expectancy

10 - 11 Years

Color

Jet black and rich tan.

Coat

Close, smooth, short, and glossy.

Exercise Needs

Can obtain his exercise in a small area, but does enjoy a good run.

Temperament

The Toy Manchester Terrier is lively and attentive. He also makes a good companion for the elderly as he enjoys being a one pers

Good with Children

May not tolerate the hectic activity of young children. May be overly aggressive to other animals.

Grooming Needs

Easy to care for as all he requires is a daily brushing or a rub down to give his coat a shine. Bathe only when necessary.

Average Size - Male (in)

8 - 13

Average Size - Female (in)

8 - 13

Average Weight - Male (lbs)

7 - 12

Average Weight - Female (lbs)

7 - 12

Health Issues

Sensitive to the sun, cold and damp weather. Deterioration of the ball of hip, possible skin ailments, fractures and slipped stiv

Living Conditions

Adapts well to either apartment or country living. He does need to be with his people and should not be kenneled.
Breed Description
The Toy Manchester Terrier (or English Toy Terrier) were registered as separate breeds until 1959 when they became a single breed with the Manchester Terrier with two varieties, the Toy and the Standard. It should be noted that the Toy Manchester may not have their ears cropped as they larger counterparts can. He is a Toy breed with definite terrier characteristics which make him a devoted pet who is faithful to his owner. He enjoys the comforts of home and should be given a soft bed to lay down in. He was originally known as the Black and Tan Terrier in the 16th century in England he was used as a ratter and a companion dog. He may have been crossed with the Whippet, Greyhound and other terriers to produce the Standard Manchester. The Standard was then reduced in size to obtain the Toy Manchester.
Breed Infobits
The Toy Manchester Terrier is a great companion animal.
Disclaimer: Pets.ca cannot be responsible for the accuracy of the above presented information. Please double check all information prior to making any decisions about purchasing this or any breed. If you think we have made an error with some of the information presented here, please e-mail us at breedprofiles@pets.ca.