Irish Terrier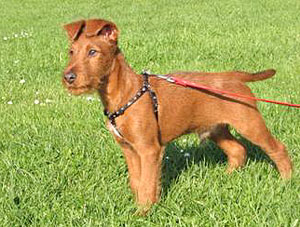 Dog Breed Group

Terrier Dogs

Origin of Breed

Ireland, working farm dog.

Life Expectancy

13 - 16 Years

Color

Whole-colored, red, red wheaten, or yellow-red; small amount of white on chest.

Coat

Harsh and wiry.

Exercise Needs

Exercise should consist of games with human contact, long walks on a leash and free run in a fenced yard.

Temperament

The Irish Terrier is determined and friendly. He makes a great watchdog and family pet. He responds well to training, but requir

Good with Children

Loves to play with children. Good with other pets, but will not stand for them to dominate him.

Grooming Needs

Regular brushing and combing will keep his coat in top notch condition. The more he is groomed, the more beautiful the coat will

Average Size - Male (in)

18

Average Size - Female (in)

18

Average Weight - Male (lbs)

27

Average Weight - Female (lbs)

25

Health Issues

Kidney or bladder stones, corns on the feet, hereditary urinary problems.v

Living Conditions

Apartment is adequate if sufficient exercise is given.
Breed Description
The Irish Terrier or Irish Red Terrier makes an excellent companion whether a playmate, hiker, watchdog or just a footwarmer. Loyal to ever member of the family, he is a top-notch terrier but is known for his fighting spirit. He is possible the oldest of the terrier breeds to have come from Ireland. Not much has been documented of his past, but he was used as a working farm dog and guard dog in Ireland for centuries.
Breed Infobits
The Irish Terrier makes a good watch-dog as it readily adopts its owner's property as its own territory.
The Irish Terrier's alternative name, the Irish Red Terrier, is derived from the red coat, which can be bright red, wheaten red or yellow red.
During World War I, the Irish Terrier was used as a messenger dog in the trenches and acquired a reputation for being fearless and intelligent.
Disclaimer: Pets.ca cannot be responsible for the accuracy of the above presented information. Please double check all information prior to making any decisions about purchasing this or any breed. If you think we have made an error with some of the information presented here, please e-mail us at breedprofiles@pets.ca.