Bull Terrier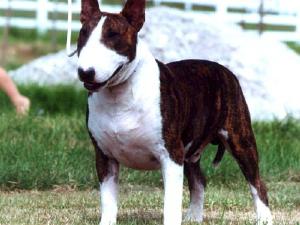 Dog Breed Group

Terrier Dogs

Origin of Breed

England, hunting dog.

Life Expectancy

10 - 14 Years

Color

Pure white, brindle, black, red, fawn and tri-colored.

Coat

Short and flat.

Exercise Needs

Needs plenty of exercise, keep on a leash when in public.

Temperament

The Bull Terrier when properly trained tends to be friendly and have a good temperament. He is also fearless and determined.

Good with Children

Good with children, if properly socialized and supervised. Needs to be properly socialized to other pets and supervised, but dog

Grooming Needs

Brush coat with a firm bristle brush and bathe only when necessary. Rubbing of the coat will keep it shiny and clean.

Average Size - Male (in)

21 - 22

Average Size - Female (in)

21 - 22

Average Weight - Male (lbs)

52 - 62

Average Weight - Female (lbs)

52 - 62

Health Issues

Hereditary zinc deficiency. Some puppies are born deaf.v

Living Conditions

Indoor- outdoor dog that does best with a fenced yard and plenty of play outlets.
Breed Description
Known for his sense of humor he is an outgoing dog with a dominant nature who needs firm handling by his owner. A tenacious fighter, he is most often dog-aggressive and has a high prey drive towards small animals such as cats. Crossed with the old English Bulldog and terriers early in the 19th century he was a lighter more agile dog who was used to bait bulls, dog fighting and to tackle vermin. Prized for their courage, agility and speed.
Breed Infobits
The Bull Terrier can also be seen in fawn and white.
The Bull Terrier is usually a pleasant-natured, intellignent, and even-tempered companion dog that requires a very assertive owner.
Disclaimer: Pets.ca cannot be responsible for the accuracy of the above presented information. Please double check all information prior to making any decisions about purchasing this or any breed. If you think we have made an error with some of the information presented here, please e-mail us at breedprofiles@pets.ca.