Chesapeake Bay Retriever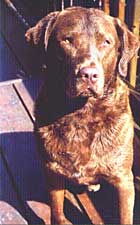 Dog Breed Group

Sporting Dogs

Origin of Breed

United States, hunter and guard dog.

Life Expectancy

10 - 12 Years

Color

Dead grass, sedge, or any shade of brown.

Coat

Thick and reasonably with a harsh, oily, outer coat and a dense, fine, wooly undercoat.

Exercise Needs

He will need a great deal of vigorous activity including swimming to maintain peak physical condition.

Temperament

The Bay Retriever is responsive and industrious. He is devoted to his family and makes an excellent guard dog.

Good with Children

Gets along extremely well with children. It will dominate other pets, but will accept them.

Grooming Needs

Brush with a firm bristle brush. Bathe only when necessary as his coat has a natural waterproofing oil to it.

Average Size - Male (in)

23 - 26

Average Size - Female (in)

21 - 24

Average Weight - Male (lbs)

65 - 80

Average Weight - Female (lbs)

55 - 70

Health Issues

Hip dysplasia, hereditary eye diseases.v

Living Conditions

Generally considered a country dog rather than a city dog, but will adapt to urban living if giving plenty of exercise and space
Breed Description
The Chesapeake Bay Retriever is a good sized, hearty breed who makes a great waterfowl hunter. Considered a duck dog he has an extraordinary ability to remember where each bird falls and then will retrieves them all efficiently. They also can swim for hours in icy water and are die-hard retrievers for birds, sticks, balls or anything you can throw. An American breed who was created from English stock. It is said he descended from two shipwrecked Newfoundland dogs who were then bred to include spaniels, Indian dogs, pointers, setters and Irish Water Spaniels to produce a tireless hunter and guard dog.
Breed Infobits
The Chesapeake Bay Retriever benefits from regular exercise and if passively encouraged as a puppy, will love to swim in open water.
The Chesapeake Bay Retriever retains its excellent working dog abilities yet still makes a wonderful companion animal for families.
Yellow-amber eyes are a unique characteristic to the Chesapeake Bay.
Disclaimer: Pets.ca cannot be responsible for the accuracy of the above presented information. Please double check all information prior to making any decisions about purchasing this or any breed. If you think we have made an error with some of the information presented here, please e-mail us at breedprofiles@pets.ca.