Schipperke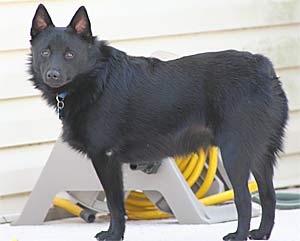 Dog Breed Group

Non Sporting Dogs

Origin of Breed

Belgium

Life Expectancy

16 - 18 Years

Color

Black, but the undercoat can be slightly lighter.

Coat

Abundant and dense, with longer hair on the neck, shoulders, chest and back of rear legs.

Exercise Needs

Exercise should consist of a daily walk and free play in a yard or park.

Temperament

The Schipperke is very active, agile and very curious. He may be quick tempered and territorial as well as stubborn. Because of

Good with Children

They are good with children and other pets if properly socialized and supervised. This breed is an excellent and faithful watchd

Grooming Needs

Comb or brush he coat regularly with a firm bristle brush, dry shampoo when necessary.

Average Size - Male (in)

11 - 13

Average Size - Female (in)

10 - 12

Average Weight - Male (lbs)

Maximum 18

Average Weight - Female (lbs)

Maximum 18

Health Issues

Hypothyroid, epilepsy, hip dysplasia and hip sockets which tend to slip.v

Living Conditions

Suited for city or country living. He does best with a fenced back yard and plenty of exercise.
Breed Description
The Schipperke is an independent little dog who makes a well-behaved, loyal and affectionate pet. He is undemanding and devoted to his owner, enjoying being a part of a family. Curious about everything in his surroundings, the Schipperke is lively, alert and at times independent. A natural clean dog, the Schipperke will take care of his own grooming and needs minimal attention from his owners. The Schipperke is thought to be about 200 years old where he may have come from the Belgian Sheepdog. Coming from the Flemish provinces of Belgium he used used to herd sheep. Named Schipperke which is the Flemish name for "Little Captain" he was also used the guard dogs on the canal boats in Brussels and Antwerp.
Breed Infobits
The Schipperke delights in alerting its owner to the presence of potential intruders.
Disclaimer: Pets.ca cannot be responsible for the accuracy of the above presented information. Please double check all information prior to making any decisions about purchasing this or any breed. If you think we have made an error with some of the information presented here, please e-mail us at breedprofiles@pets.ca.