Saluki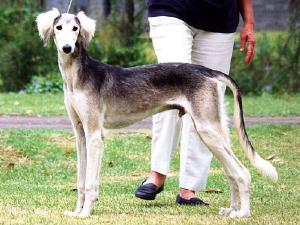 Dog Breed Group

Hound Dogs

Origin of Breed

Egypt as a hunting dog.

Life Expectancy

12 - 14 Years

Color

White, cream, fawn, golden, red, grizzle, silver grizzle, deer grizzle, tri-color (white, black and tan), and variations of thes

Coat

Smooth, silky in texture.

Exercise Needs

Needs the opportunity to run free in open ground and long daily walks.

Temperament

The Saluki are active, gentle, affectionate and loyal. He loves to be the center of attention. Puppies need to be socialized fro

Good with Children

Good with children. Gets along with dogs, but mortal enemy to cats and chickens.

Grooming Needs

Carefully comb or brush the coat with a firm bristle brush, over brushing will cause his hairs to break. Shampoo only when neces

Average Size - Male (in)

23 - 28

Average Size - Female (in)

May be considerably smaller

Average Weight - Male (lbs)

45 - 60

Average Weight - Female (lbs)

45 - 60

Health Issues

Prone to cancer, genetic eye diseases and sunburns especially on the nose.v

Living Conditions

Room to roam, a very high fenced yard (exceptional jumping skills).
Breed Description
The dogs of the Pharaohs, the Saluki is a slim, high-stepping, elegant dog who was used in Arabia for hunting of gazelles and other game with falcons. He is also known as the Gazelle Hound, Arabian Hound, Eastern Greyhound and the Persian Greyhound, he can have running bursts of up to 40 mph with exceptional endurance. An aloof, cautious dog, he is strongly committed to his family.
Breed Infobits
The Saluki is an excellent hunter, and it is a sheer delight to watch this dog as it runs with effortless grace.
The Saluki originated in the Middle East.
Named after the ancient city of Saluki, he was traditionally thought of as the "sacred gift of Allah"
Disclaimer: Pets.ca cannot be responsible for the accuracy of the above presented information. Please double check all information prior to making any decisions about purchasing this or any breed. If you think we have made an error with some of the information presented here, please e-mail us at breedprofiles@pets.ca.