Basset Hound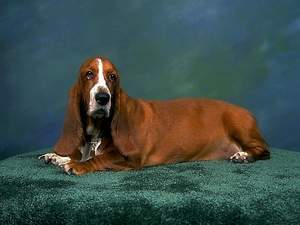 Dog Breed Group

Hound Dogs

Origin of Breed

France as a hunting dog

Life Expectancy

8 to 12 years

Color

Generally black, tan and white,

Coat

Smooth, close and hard with sufficient density for protection. The skin is loose and elastic

Exercise Needs

three periods totalling about 1 hour per day. Playtime is also required

Temperament

Friendly disposition. May be stubborn in accepting formal training as most hounds have an independent character, but a steady, f

Good with Children

Gets along well with other animals and children. Friendly with strangers.

Grooming Needs

Weekly brushing. Pay special attention to ear cleaning

Average Size - Male (in)

14

Average Size - Female (in)

14

Average Weight - Male (lbs)

40 - 60

Average Weight - Female (lbs)

40 - 60

Health Issues

If used as a house dog, overfeeding can be a problem.v

Living Conditions

Suitable for city living but must be taught not to howl.
Breed Description
The Basset Hound originated in France, possibly as early as 1585. After the French Revolution, the breed again rose in popularity among the peasants. Before the Revolution, hunting hounds were used only by the nobility. The peasants could not hunt from horseback, only on foot, so they required a shorter-legged, slower hound. Originally used to trail hares, rabbits, and deer, it has also been used in hunting birds, foxes, and other game. It is characterized as a slow, deliberate hunter, with a deep voice and a "nose" second in keenness only to that of the bloodhound. The Basset Hound was also ideal for hunting in heavy cover due to its shape and size. The breed has several varieties, one of the most popular being the sad-eyed Le Couteulx.
Breed Infobits
The Basset Hound certainly has an amazing bark which acts as a powerful deterrent to any would-be intruder.
Shakespeare said the Basset Hound has 'ears which sweep away the morning dew'.
Bassett Hounds are well known for having a very keen sense of smell.
Disclaimer: Pets.ca cannot be responsible for the accuracy of the above presented information. Please double check all information prior to making any decisions about purchasing this or any breed. If you think we have made an error with some of the information presented here, please e-mail us at breedprofiles@pets.ca.