Triple Cat Leash Hook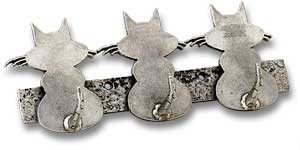 Detailed Description:
The entire TRIPLE CAT HOOK is made of pewter finished metal. The hooks themselves are crafted into the shape of CAT tails and feature 3 cats just hanging out.
It is ideal for placing right near the door. Can easily hold one or two sets of keys along with a leash and a collar on its single long hook.
Benefits include:
Great for quick organization of your pet walking accessories and/or keys.
Pewter finished metal will not rust or tarnish.
Mounts easily and is extremely solid.
Size/weight
7 3/4 inches x 3 1/4 inches (19.5 cm x 8.cm)
15 oz. 330gr.