Sterling Silver Circle with Cubic Zirconia Diamonds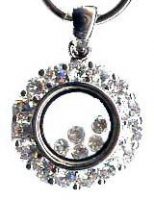 This is a beautiful gift sure to make the other pretty cats and dogs around the block green with envy. This sterling silver pendant is surrounded by 15 cubic zirconia stones. An inner transparent compartment houses another 5 stones. Attach it to your pet's collar or put it on your own chain or necklace. Comes in the shape of a circle. A gorgeous piece.
Size – 3/4 iches x 3/4 inches (1.9 cm x 1.9cm) not including the attached stainless steel keyring.