Sterling Silver Pear Shaped Pendant with Cubic Zirconia Diamonds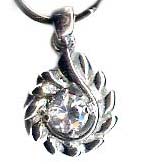 This is a beautiful gift sure to make the other pretty cats and dogs around the block green with envy. This sterling silver leafed pear shaped pendant has a sparkling cubic zirconia stone in the center. Attach it to your pet's collar or put it on your own chain or necklace. Comes in the shape of a leafed pear. A gorgeous piece.
Size – 1/2 iches x 1/2 inches (1.3 cm x 1.3cm) not including the attached stainless steel keyring.