Spoiled Rotten Cat Picture Frame Magnet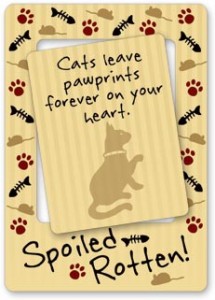 Detailed Description:
This SPOILED ROTTEN CAT FRAME magnet is perfect for cat lovers. You can put your own cat's picture in the center part of the frame and have it stick to a fridge, filing cabinet or other matalic surface. You can use the center part of the magnet for lists and other notes or pictures that you want to display.
Benefits include:
Great gift item
2 magnets in one
Shipping is already included in the price of this magnet
Size:
3 inches (7.6 cm) wide x 4 3/4 inches (12.1 cm) long.
The center rectangle is 2 inches (5.1 cm) x 2 3/4 inches (7 cm).