Small Pewter Setting with Cat's Eye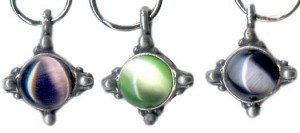 This small pewter Celtic setting comes with your choice of 3 different coloured cat's eye gemstones. They're called cat's eye because they are highly reflective just like a real cat's eye. They also have a delightful shimmer. Available in pale green, medium purple and charcoal grey.
Size – 5/8 inches X 5/8 inches (1.6cm x 1.6cm)
Comes with a stainless steel keyring (not attached).