Shamrock ID Tag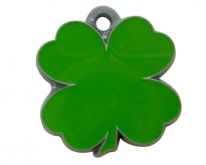 Detailed Description:
This exquisite metal (Pewter finish) and virtually indestructible ID Tag features a  a green enamel shamrock.
Features include:
Virtually indestructible.
One size
Available in a silver finish
Unique design that will be commented on by all who see it.
Your pet will look sharp wearing one of these unique tags.
Size:  Medium (3 Lines of Text)
Line 1 – Maximum 8 characters (perfect for the area code)
Line 2 – Maximum 10 characters (perfect for the rest of the phone number)
Line 3 – Maximum 8 characters (perhaps the pet's name)
Colour- Silver
Dimension – diameter
Medium – 1 inch/26mm