Rescue Decals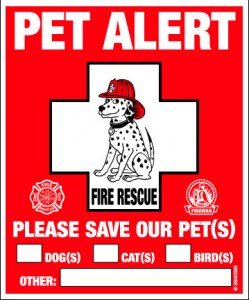 Detailed Description:
These decals are 4″ x 5″ and made of a strong weather-proof vinyl static cling material with bright vibrant red color for high EZ alert visibility. These decals will adhere to any clean glass surface without adhesive and can be placed on any inside GLASS window areas anywhere anytime and can easily be removed and reused again. (Homes, Apts, Condos, Business, Rvs)
These decals are designed to alert firemen, police or neighbors that there is an animal or animals inside of property. Properly displayed, these fire rescue decals greatly increase a pet's chances of survival and being saved.
Benefits include:
Alerts emergency personnel that pets are inside.
Highly visible bright red and white decal.
Self adhesive on all inside glass windows.
Can be used and re-used on different doors or windows.
Space provided to list number of pets.
Size (Package of 2)
Each decal measures approximately 4 inches x 5 inches (10.2 cm x 12.7 cm)