I Love My Cat Ribbon Magnet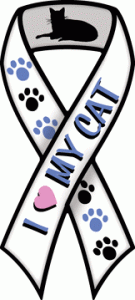 Detailed Description:
This I LOVE MY CAT magnet is striking in its blue, pink, black and white color design. Perfect for the fridge, filing cabinet or car (It won't damage your car's paintjob).
It supports 6 full sheets (8.5 x 11 inches) of 20LB. paper when the magnet is placed in the center of the paper. Supports 9-10 sheets when the bottom half of the magnet is directly on the metallic surface and the paper is in between the magnet and the metalic surface.
Benefits include:
Great gift item
Shows off the love for cats
Size:
Approximately 9 inches x 4 inches (23 cm x 10 cm)