Dog Tag Style ID Tag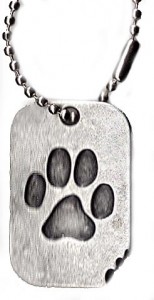 Detailed Description:
This exquisite metal (Pewter finish) and virtually indestructible ID Tag features a picture of a Paw in the middle of this more traditional looking Dog tag. The bottom right corner looks like a dog took a bite out of it.
Features include:
Virtually indestructible.
Available in 3 sizes.
Available in Silver.
Comes with attached ball chain.
Your pet will look sharp wearing one of these unique tags.
Dimensions – 1 inch (2.5 cm) wide x 1.5 inches (3.75 cm) long