Chinese Character Charm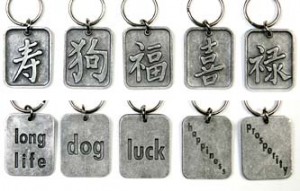 These charms are made from an exquisite metal. They are perfect accessories for your dog or cat collars and can also be used to accessorize keychains. These charms depict the following classic Chinese symbols: long life, dog, luck, happiness and prosperity.
The Chinese symbol is on the front of the tag and the English translation is engraved on the back of the tag.
These charms are not only great for pets but for humans too. They can be worn as a necklace by using a silver chain or leather lace.
Size/Colour/Info:
These charms are approximately 2 cm x 2.5 cm (3/4 x 1 inch) and come with an attached O ring to put onto a collar, keychain or necklace.