Cats and the Moon Leash Hook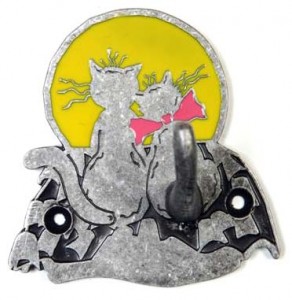 Detailed Description:
The entire CATS & THE MOON hook is made of pewter finished metal accented with painted enamel. The actual hook itself is looks like it is the cat's tail.
It is ideal for placing right near the door. Can easily hold one or two sets of keys along with a leash and a collar on its single long hook.
Benefits include:
Great for quick organization of your pet walking accessories and/or keys.
Pewter finished metal will not rust or tarnish.
Mounts easily and is extremely solid.
Size/weight
Approximately 3 3/4 inches x 4 inches (9.5 cm x 10 cm)
Weight : 1/4 pound (100 grams)