A Neuter A Day Ribbon Magnet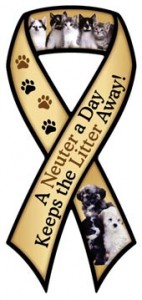 Detailed Description:
This A NEUTER A DAY KEEPS THE LITTER AWAY magnet is striking in its beige colour with kitty/puppy pictures. Perfect for the fridge, filing cabinet or car (It won't damage your car's paintjob).
It supports 6 full sheets (8.5 x 11 inches) of 20LB. paper when the magnet is placed in the center of the paper. Supports 9-10 sheets when the bottom half of the magnet is directly on the metallic surface and the paper is in between the magnet and the metalic surface.
Benefits include:
Great gift item
Sends out an important message
Size:
Approximately 9 inches x 4 inches (23 cm x 10 cm)