Kotkot's Tribute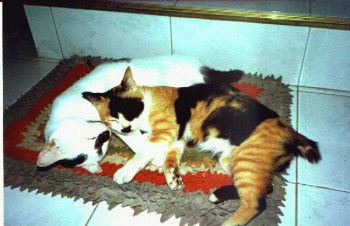 All about Kotkot
Pet Tip
Unfortunately the following two scenarios occur from time to time: You're innocently petting your cat or dog when all of a sudden your pet bites you. The same reaction can happen when you pick up your cat or dog the way you always do, when all of a sudden it bites you. What is going on here? Your pet NEVER bites you, and now that you are trying to show it some love, it bites you. Has your pet gone mad? What might be going on here is pain induced aggression.
It seems so obvious after you bring your pet to a veterinarian to figure out what is going on, but it may be as simple as pain induced aggression. Pain induced aggression means that your pet has exhibited an aggressive behaviour because it is in pain. This is especially common in older pets that may be suffering from arthritis or perhaps one of their internal organs is bruised or diseased.
Owner:

mikai remular

City:

Iligan City

Province, Country:

Not Provided

Type/Breed:

Philippine Cat

Date of Birth:

February 1997

Date of Death

february 2003

Sex:

Female

Height:

6

Weight:

5

Coat Colour:

multicolored

Eye Colour:

green
my dearly beloved friend, kotkot.. you had been with for almost my lifetime how could you leave me and let me miss the other half of my lifetime.. you are my life .. how i miss your scent , your syphathetic meows, your soft fur and those round green eyes that look at me. going home wouldn't be the same without you. how i want to curse the cab that hit you dead. im sorry i wasn't there you know how much i need a job so i had to leave you. i'll miss you my lokloket!! love you
'Kotkot" short for Cutee was the most beautiful cat in our village. She had the most eccentric color combined beautifully. She was multicolored.. black,orange,yellowwhite combined beautifully. She was admired so when i had some visitors at home cause of her flashy shimmery color. but what is kotkot's outside is ten time more beautiful inside. she was very obedient, sweet, loving, nice happy cat. there was a never a dull moment with her. She was a healthy cat though she only eats ones a day especially that i was not at home. to the cab driver who hit my beloved cat , you definitely stink!!!
Im gonna miss you kot when;
1.you eagerly lick the extra cream from my oreo cookies
2. how you followed me wherever i am in the house.
3. when you gave birth to your kittens under my bed
4. when you shared me your fleas that gave me red itchy spots on my legs.
5. when we climbed together at the rooftop and watch our mango fruits.
6. how eagerly you respond to my my call "lokloket!"
7. im home alone and i needed company as i watch tv
8.you chase bird and eat it leaving no feather left
9. you chase lizards on the trees.
10.you patiently wait for me at the doorstep.
11.you sleep like a baby on my tummy.
12. you stood at the doorstep when i was leaving ..you look at me like you nevr did before and that was the last time i saw you