Rebel's Tribute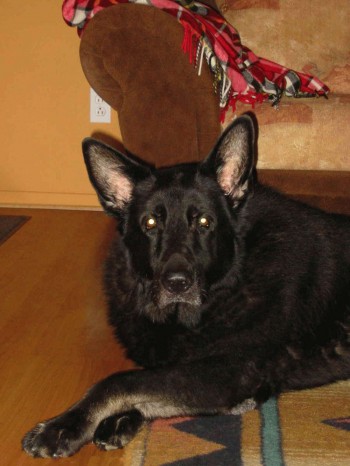 All about Rebel
Pet Tip
Water is the elixir of life and it is essential to all living things. Our pets need to have access to water at all times and their water bowls should be filled with fresh water every single day. When our pets don't get enough water dehydration can occur. Sometimes though, our pets drink too much water and although we know that water is good for our pets, too much is too much. Serious health problems can occur when our pets drink too much water. Sometimes the reason they drink so much stems from psychological or behavioural problems; other times the reason is medical. Either way, drinking too much water is dangerous for pets.
When a pet drinks too much water, its urinary system is also affected. What goes in must come out so thirst and urination are naturally linked.
Owner:

Bob Seney

City:

Not Provided

Province, Country:

Not Provided

Type/Breed:

German Shepherd

Date of Birth:

Novermber 23rd, 1990

Date of Death

January 2nd, 2003

Sex:

Male

Height:

Not Provided

Weight:

120

Coat Colour:

Black

Eye Colour:

Brown
Rebel
November 23 1990 - January 2nd 2003
For 12 long years we have been at each others side.
We literally grew up together. From the time we lived with our parents, to the time we got our first house. You have been by my side for every significant event in my life good and bad.
I have always cherished you with all my heart. You were second in my life to no one.
They told me that given your size and age I was looking into the eyes of 95 year old dog.
However when I looked into your eyes I can only see the excited young puppy that first layed his eyes on me long ago.

II will remember the 12 years that we spent together with great happiness and the last couple of hours with great sorrow.
Seeing you take your last breath will haunt me, I can only hope that you seeing me by your side during this darkest hour brought some level of comfort for you. I can only wish that I could reverse time so that we could be together again.
Everyone says that there is soul mate for each of us in this world, no one bothered to tell us however that sometimes they appear on four legs..... Thank you for the years of friendship, unconditional love and loyalty. Your passing will be my scare that I will carry with me for a long time.
See you in my dreams....
Your Brother
Bobby
Its been a year since you left me. It now seems clear that the welcoming of the new year will also bring memories of our last night together. Looking back, at out last holiday it is an incredible coincidence that you died on the last day of a 2 week vacation. You truely followed me to the very end until you couldn't anymore. Thank you!