Max's Tribute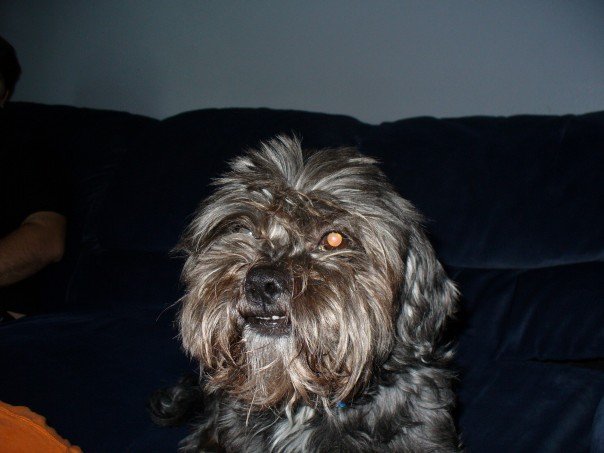 All about Max
Pet Tip
These days you hear a lot about the term 'dog whisperer' and most people associate the term with one particular dog trainer, Cesar Milan. Many people think that he created the term when in fact this is false. The term dog whisperer is actually a term borrowed from horse training, where certain trainers or horse whisperers seemed to be able to get horses to calm down and accept training or accept a rider on their backs. Their methods were often 'quiet' (as opposed to more traditional punitive techniques) to an observer as these trainers seemed to get results from quiet whispers. These days though, the term has been diluted and many people use the term loosely.
Owner:

doubletees

City:

Not Provided

Province, Country:

Not Provided

Type/Breed:

Lhaso Alpso

Date of Birth:

Oct 23, 1995

Date of Death

Not Provided

Sex:

Male

Height:

Not Provided

Weight:

20

Coat Colour:

Black and Grey

Eye Colour:

Brown
Max
October 23rd 1995-June 27 2012
Max
As I write this, you have only been passed for less then 24 hours and the pain is gut wrenching. Every single spot in this house contains something that I can remember about you. I feel like a large part of me has passed with you . I do not know what to do without you in my life.
I want you to know how lucky I was to have you. How special you were to me and how much joy you brought to my life. You make me believe in fate because it was fate that I could end up with such an amazing soul like you.
For nearly 17 years you remained my loyal companion and I want you to know I love you so much.
It was so hard watching you get older , and sicker and I am sorry if I ever made a bad choice with caring for you. I did everything I could to help you. I am sorry I could not do anymore.
I did not realize how much time we spent together and how much I did to help you until the moment you were gone. I feel lost inside because you and I spent all our time together. I am crying because I miss you so much.
Max, it was so sad to see you get thinner , and frail and have so many health ailments. It was so hard to see you lose that spark in your eyes and it broke my heart that even though you were getting sicker and in more pain, you always greeted me at the top of the stairs and wagged your tail when you seen me. You were my first dog Max, and you were the best.
I can't even put into words how much I miss you and will always miss you. I can't imagine my life without you in it. We grew together. You watched me raise my kids, we moved to all sorts of places.. but through it all we always had each other.
We could not stand to see you suffer anymore Max, it was breaking our hearts and when you went to sleep, we only found comfort in the idea that you could finally be pain free and happy and free again. Please know Max, that decision was the hardest thing we ever had to do and if there was any alternative, we would have taken it. I prayed that our vet would find a way to save you, and make you healthy again. I guess it was wishful thinking but I just kept hoping they could give me a solution to not lose you. But when she stroked your back and seen how frail you were and how big the tumor grew on your lip she told us it was the right thing to do.
Max, losing you was never something we wanted to happen and we tried everything we could to help you. I am so sorry I ran out of options Max. I would have given anything to keep you alive.
my tears will not stop flowing.. my heart will not stop breaking, but I know that I love you.