Guido Fritzchen's Tribute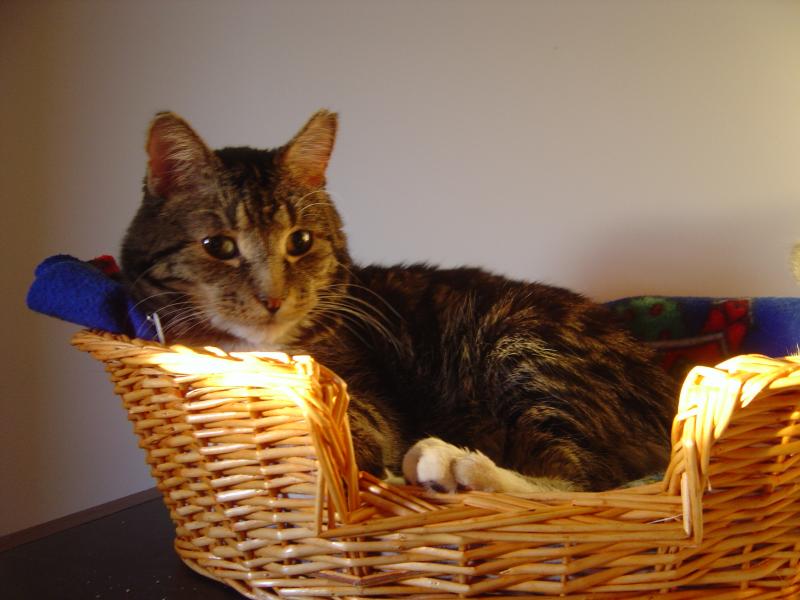 All about Guido Fritzchen
Pet Tip
Unfortunately the following two scenarios occur from time to time: You're innocently petting your cat or dog when all of a sudden your pet bites you. The same reaction can happen when you pick up your cat or dog the way you always do, when all of a sudden it bites you. What is going on here? Your pet NEVER bites you, and now that you are trying to show it some love, it bites you. Has your pet gone mad? What might be going on here is pain induced aggression.
It seems so obvious after you bring your pet to a veterinarian to figure out what is going on, but it may be as simple as pain induced aggression. Pain induced aggression means that your pet has exhibited an aggressive behaviour because it is in pain. This is especially common in older pets that may be suffering from arthritis or perhaps one of their internal organs is bruised or diseased.
Owner:

Minerva

City:

Not Provided

Province, Country:

Not Provided

Type/Breed:

Tabby Cat

Date of Birth:

Not Provided

Date of Death

Not Provided

Sex:

Male

Height:

Not Provided

Weight:

Not Provided

Coat Colour:

Tabby

Eye Colour:

Green
On May 9, 2012 we lost our much loved, little GUIDO, at the age of about 17 years, due to serious illness. He will always have a warm place in our hearts.
Guido was born in Nemaiah Valley in the Chilcotin and as a kitten was abandoned in the wilderness, near a Guest Ranch. Minerva found him under one of the barns and rescued him when he was approx. one year old. He shared his new home at the Ranch with two dogs, Curly and Annie.
Guido loved his outings in the garden and he never forgot his mom, even when she returned after long absences.
Before he was taken to hospital last Sunday, already weak and tired, he made a turn and wanted to go to the garden. It took him great effort to make it down and back up the stairs of the sundeck, but for one last time, he visited his garden. He may have known what we didn't know then, just how ill he was, and that this was his last opportunity to visit the garden.
We thank Guido for all his love and companionship, the purrs and the cuddles, for his sensitivity, understanding and caring how we were feeling and for the many "conversations" we had with him. Guido was quite vocal. He taught us "catish" – he clearly used words food was "Nam", a short "mea" was asking for milk, and "mom" for Minerva or Irma, his caretakers. He always said his thanks for his meals, giving a short "meaou", after he ate, before he walked off. At times he agreed with what we said by giving a "hmmmmm", that was most amazing! At times he was funny, at times he was stubborn, at times he wanted to ponder before deciding, and he taught us "catitude". The house won't feel the same without him, but he will be forever in our hearts.
We will always love you, Guido.
Guido's family: Irma and Reg, Minerva, Cesare, Kathy and Anna.
Guido...you have brought so much love to my life. Thank you so much for all the wonderful moments I got to share with you. I will treasure them in my heart forever. Miss you so much!!! Missed you every day I could not be there. Every night I could not cuddle with you. But I knew that you loved the garden and where you were and were so very well taken care of and so loved there. You are and will be forever in my heart and soul. I love you so very very much. Minerva