Tinsel's Tribute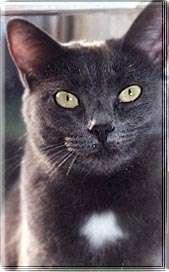 All about Tinsel
Pet Tip
Any owner of a dog who has had "cherry eye" will tell you that it is not a pretty sight. Perhaps you have witnessed it yourself and have seen the large red mass bulging out of the inner corner of a dog's eye, from which the name 'cherry eye' originated. While not the most visually appealing condition (for the owners or the afflicted dog), cherry eye is actually a fairly common and benign occurrence in many breeds of dogs.
Though it may appear somewhat like a tumour or even an awfully big bug bite, the 'cherry' on your dog's eye is actually a prolapsed (or popped out) gland. Known by veterinarians as the nictitans gland, this gland is present in the third eyelid of dogs and aids in the production of tears. Unlike humans, many animals possess this third eyelid which closes horizontally across the eye to provide extra protection and moisture.
Owner:

Jiml

City:

Not Provided

Province, Country:

Not Provided

Type/Breed:

Shorthaired cat

Date of Birth:

Not Provided

Date of Death

Not Provided

Sex:

Female

Height:

8.5

Weight:

10

Coat Colour:

Grey/Black

Eye Colour:

Green
Tinsel passed away on Aug16, 2002
Oh Tinsel. I can't say your name without tears coming to my eyes. You filled our house with love for 12 years and it broke my heart in a way I didn't expect when I realized it was time to end your suffering. I feel your spirit every day. We miss you...Tom misses you too. Wait for me at the Rainbow Bridge. I'll be along, and we'll all be together again.
HI Tinsel.I can't believe it's been 3 years since that terrible morning.I still think of you every day,and I feel your presence always.Tom and I never miss a Monday Candle-light service,and if I mention your name,his ears perk up and he starts looking around.I know he feels you're not far away.Stay close,Tin,and we'lll all be together again.