Tom 's Tribute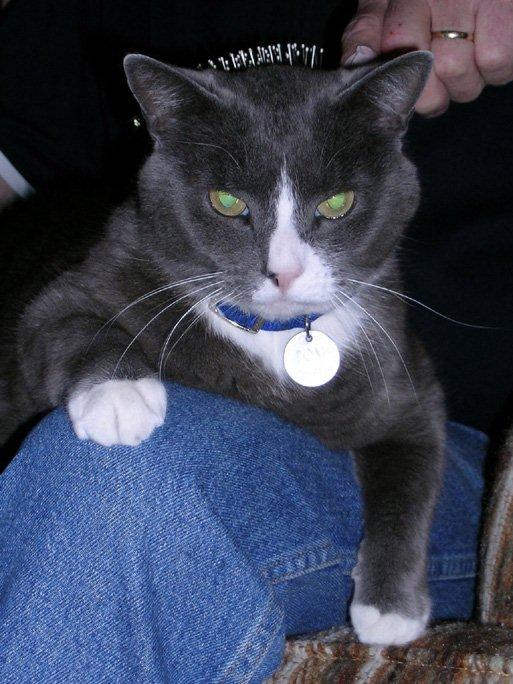 All about Tom
Pet Tip
Water is the elixir of life and it is essential to all living things. Our pets need to have access to water at all times and their water bowls should be filled with fresh water every single day. When our pets don't get enough water dehydration can occur. Sometimes though, our pets drink too much water and although we know that water is good for our pets, too much is too much. Serious health problems can occur when our pets drink too much water. Sometimes the reason they drink so much stems from psychological or behavioural problems; other times the reason is medical. Either way, drinking too much water is dangerous for pets.
When a pet drinks too much water, its urinary system is also affected. What goes in must come out so thirst and urination are naturally linked.
Owner:

Jiml

City:

Not Provided

Province, Country:

Not Provided

Type/Breed:

Domestic Shorthair cat

Date of Birth:

Sep 20, 1994

Date of Death

Not Provided

Sex:

Male

Height:

10.5

Weight:

10

Coat Colour:

Grey with white

Eye Colour:

Green
Oh Tom.It's been three weeks since I reluctantly made the decision to send you on.Three weeks full of grief and sadness at having lost my friend and buddy of 17 years.I miss you so much in so many ways.
I miss the way you were always waiting for me at the garage door no matter what time I got home.I find myself still expecting your welcoming "yowl"!
I miss the way you'd wake me up at 3:00AM by sitting on my chest,wanting "OUT!", and I'd stay up to let you back in and you'd run up the stairs and jump in the bed, waiting for me. Everyone loved you so much.You were so patient with all 14 grandchildren no matter how rough the handling got.
I miss our quiet times when I was reading and you would lay at my feet. I really miss the way you'd follow me around ,inside and out...a real Buddy !
I still see you lying in the sun on the deck railing,waiting to be brushed,and Oh how you loved it.
I woke up the other night because I heard you call,and I jumped out of bed and went to the kitchen door to let you in....and no one was there and there were no tracks in the snow covered deck.
Another night I felt your weight on my feet as I lay in bed,but when I reached down to scratch your ears,you were'nt there.
I go to your grave every day.I buried you in the backyard in the place you loved to lie in the sun,but I know you're not really there.
You're in whatever heaven cats have,waiting for me.We will be together again before too long. Until then,all I can do is miss you and remember all the good fun times we had in the 17 years we were together.
I love you so much,Tom "I have sent you on a journey to a land free of pain,not because I did'nt love you,but because I loved you too much to force you to stay."