Maybee Knot Rozga's Tribute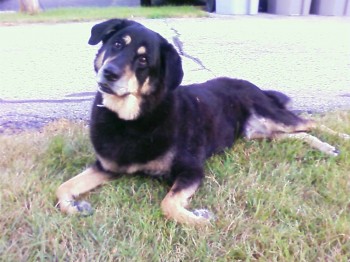 All about Maybee Knot Rozga
Pet Tip
These days you hear a lot about the term 'dog whisperer' and most people associate the term with one particular dog trainer, Cesar Milan. Many people think that he created the term when in fact this is false. The term dog whisperer is actually a term borrowed from horse training, where certain trainers or horse whisperers seemed to be able to get horses to calm down and accept training or accept a rider on their backs. Their methods were often 'quiet' (as opposed to more traditional punitive techniques) to an observer as these trainers seemed to get results from quiet whispers. These days though, the term has been diluted and many people use the term loosely.
Owner:

Charley Rozga

City:

Milwaukee

Province, Country:

WI, United States

Type/Breed:

Rottweiler/ Yellow Labrador Mix

Date of Birth:

March 22, 1994

Date of Death

September 4, 2008

Sex:

Female

Height:

24

Weight:

88

Coat Colour:

Black with Rottweiler markings

Eye Colour:

Brown
Maybee
Maybee: We love you! This is one fact that will never change in your family's eyes, even though you're now gone. You were my best friend in the whole world. Whenever I needed to hold someone, you were there for me. Through the tears, fights, and just cuddle time, you were there. Although sometimes you gave us the "If I sit here and let you do this, will you go away?" face. Mom will miss those eyebrows of yours. You brought life and personality to an animal, that I never knew one could have. You were not my pet; you were my sister, my friend. You were Mom and Dad's fourth child (the only one who every listened), Molly's sister, and an aunt to your niece and nephews. This is what made you the light of our worlds. I know we didn't always show it, but you truly were. Sometimes you'd get into some trouble, like when you'd eat photographs, toys, important papers/mail, and even the cover to one of Mom's vinyl records. I will cherish the weekends we got to spend together when Mom and Dad went away. You'd just snuggle with me on the floor (secretly on their bed). Maybee, you protected us from all the evil out in the world. Well, unless it didn't scare you first. One of my favorite stories is when Dad came home wearing a raincoat and you thought he was breaking in. You stood your ground hair raised and teeth shown, making it known you'd let nothing happen to us. I love you more than words Maybee. Thank you for being my puppy the last few weeks of your life doing "Batdog" again.
We'll miss you!
Have fun in heaven with Grandma! She crosses her arms just like you.