Spotty's Tribute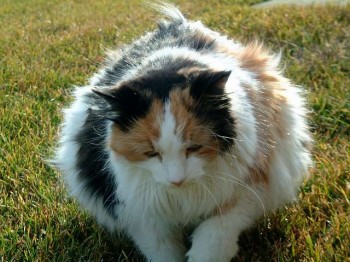 All about Spotty
Pet Tip
Unfortunately the following two scenarios occur from time to time: You're innocently petting your cat or dog when all of a sudden your pet bites you. The same reaction can happen when you pick up your cat or dog the way you always do, when all of a sudden it bites you. What is going on here? Your pet NEVER bites you, and now that you are trying to show it some love, it bites you. Has your pet gone mad? What might be going on here is pain induced aggression.
It seems so obvious after you bring your pet to a veterinarian to figure out what is going on, but it may be as simple as pain induced aggression. Pain induced aggression means that your pet has exhibited an aggressive behaviour because it is in pain. This is especially common in older pets that may be suffering from arthritis or perhaps one of their internal organs is bruised or diseased.
Owner:

Tom Stef

City:

Woodbridge

Province, Country:

Not Provided

Type/Breed:

Cat Long haired

Date of Birth:

May 21st 1995

Date of Death

March 20th 2007

Sex:

Female

Height:

11

Weight:

10.5

Coat Colour:

Calico

Eye Colour:

Green/Brown
Spotty, you were a wonderful cat. You had the most loving personality, always greeting guests, running to see us when we came though the door. You always wanted our attention and you never ceased to give us your love and undivided affection.
The hardest part is that you were like a sister to us all, growing up with you was a treat, and I just wish we had more time together. I remember the day you were born; it was a beautiful warm day in May. We took your mother Fluffy inside when she started having contractions. You were the second last kitten out of a litter of 7 and the only kitten that was not ginger.
You were there for me in elementary school, high school and finally you made it to see me through my 3rd year of University. Writing those papers all night will long will never be the same, you were always there sitting on my lap, sleeping on my toes or never more than an arms length away. My mother will miss you greatly; you kept her company on those long nights around tax time and always woke her up bright and early so she could feed you.
Planting the garden in spring you would pester us constantly, attacking the plants and all but we loved every moment of it. Having to call you at 4AM in the morning to come inside was always something we would do. You always greeted us during backyard BBQ's and in the even when we watered the plants, somehow you did not mind all the mosquitoes. Your favorite spot was to either rest under the BBQ or sleep in the neighbours cabbage patch.
The postman will miss you dearly as well. I remember those 11AM mornings when he would come covered in suntan lotion and sit on our front step playing with you. He was usually late for his deliveries after that and always left with a new layer of fur he never had and probably never wanted.
In the winter you would bounce through the snow like a rabbit, or walk along the fence. On those really cold mornings you would run out of the house and promptly run back inside bouncing through the front door.
You were a part of the family, everyone knew you, and the whole town knew whose cat you were. It always amazed me how you could open doors, and at times act like a dog. All the neighbours loved you and you loved everyone.
In your final hours we knew it was your time, you would not let us leave your side, if we did you would cry until we came back. It was the hardest thing sitting with you, petting you while waiting for the inevitable. When you were diagnosed with cancer 12 days before it was the saddest day of our lives, if I had to move the moon and stars to save you I would have. You were so healthy until the very end, if there was any indication we would have acted on it right away, but there was none.
As the final minutes approached we sat there petting you, telling you how much we loved you and you let out a final cry, as if you were telling us that you loved us and not to worry. Then you lifted your head and took you final breath as we held you. My heart sunk. If there was anything I could do to bring you back right now I would, right this minute no matter what. I know deep down you are in a better place but I miss you so much. I wakeup everyday still wishing I could hear you calling me in the morning.
Your memory will live on in the thousands of pictures and hours of video I have taken, but more importantly it will live on deep in my heart.
We will miss you dearly, your bouncy loving personality and the way you always kept us company no matter what. You will always be remembered and loved deeply!