Toby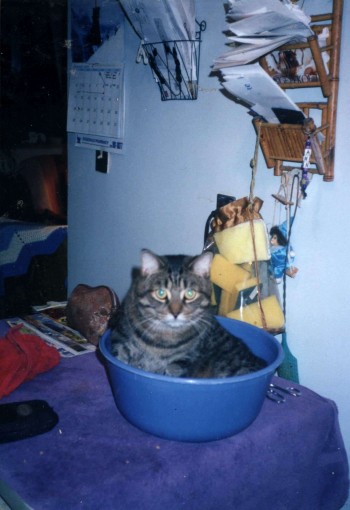 How cute is Toby?
It current rating is 3.79 out of 5 with 29 vote(s).
All about Toby
Pet Tip
Although any cat can suffer from high blood pressure (hypertension) it is most commonly seen in middle aged or senior cats. In case we have forgotten what blood pressure means, blood pressure refers to the force (pressure) of circulating blood against the walls of blood vessels; the higher the force, the greater the amount of stress that's put on the heart to move the blood. This can cause the heart muscles to enlarge, get thicker, and weaken thereby reducing life expectancy. It's one of the vital signs used to measure the overall health of many animals including humans.
Owner:

Kelly Negoro

City:

Toronto

Province, Country:

ON, Canada

Type/Breed:

Tabby

Date of Birth:

Not Provided

Sex:

Unknown

Height:

Not Provided

Weight:

Not Provided

Coat Colour:

Brown

Eye Colour:

Yellwo-orange
His personality: Friendly on his terms especially when he wants food. He has a funny personality. Toby has been declawed on all four paws and had a broken foot when we adopted him. The owner had him for only 2 mos then surrender him to the Humane Society. The reason she gave him because ofr Allergy. I don't believe that she just didn't like the cat. She is Probably a dog person. The owner said he jump of a shoebox that is how he broke his foot. I think she step on his foot really hard because he is always in the way. Toby is more dominant then the other 2 cats but they get along great together. Never get your cat declawed. It changes their personality. They become depressed and less active. It is abuse to them and very painful.
Likes: Water, yogurt (which he isn't supposed to have), whipped cream, tummy rubs and dogs (he lived with a dog before)
Dislikes: Heights, wearing a collars and going to the vet
Favorite food/treats: Toby sure loves his treats, likes those Temptation treats and Tartar Control treats
Favorite toy: He doesn't play alot. But when he is in the mood; his favorite toys are soft balls, cat nip mice and bottle caps
Favorite sleeping spot: Toby has many sleeping spots. On the balcony when the weather is nice and warm that is if we don't have the Air Conditioning on. Somethimes he sleeps in the cat condo or on the kitchen table. Depend on his mood.