Coco Caron's Tribute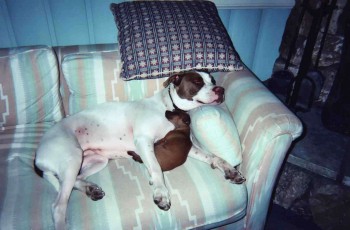 All about Coco Caron
Pet Tip
Most dog owners are aware that dog noses are extremely sensitive. This is due to the quantity of olfactory or 'smell' receptors in a dog's nose. Whereas humans have around five million olfactory receptors, dogs have two hundred and twenty million. This makes their noses exponentially more sensitive than a human's. Most times a dog's sensitive nose works to our benefit. All kinds of dogs are used as service dogs to help humans find missing people, sniff out explosives, drugs etc. They can smell people coming from quite a distance and alert us to their presence. There are some embarrassing occasions however, when a dog's nose is just too sensitive from our human perspective. Most notably this occurs when dogs try to sniff humans in their private areas.
This behaviour is a common one in dogs and equally common is the fact that it upsets most dog owners. The reason some dogs sniff at a human's private parts is the same reason they sniff the private parts of other dogs. We know that when they smell other dogs in this way they can tell the sex, rank (is the dog more dominant or submissive) age and other information about the dog.
Owner:

Jackie Abiva

City:

anaheim hills

Province, Country:

CA, United States

Type/Breed:

Mini Pin

Date of Birth:

06/04

Date of Death

10/01/04

Sex:

Female

Height:

9

Weight:

5

Coat Colour:

Red

Eye Colour:

Black
Coco was my favorite dog, even if I had three. She spent every day and night with me for four months. Coco was so precious. She was fiesty but sweet. She understood when I said "kisses". She always came to me when I called or waited if I said to wait. She was a big beautiful ball of life. Coco jumped high. As soon as she got old enough, she could jump out of our windows. She had a favorite spot on the old couch, that she would crawl into and sleep. Coco fought parvo for five days. She waited for me to get home from a test the day that she died. Her papa took care of her. He stayed up the entire night before she died. We tried our best. I am still having a hard time understanding God's plan, because Coco was just a baby. I don't think that babies should ever die. Coco.. I burried her today and put a rock on her grave. My sweet angel.. I feel like she is here with me in spirit. The other dogs keep sniffing around your room, laying on your couch and crying. Coco died on her favorite couch. I will forever miss you my sweet angel. This pain runs so deep in my chest. I can not explain it. I will forever love you... until we meet again.
Momma and Papa