Cookie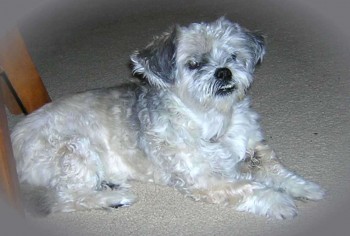 How cute is Cookie?
Her current rating is 3.78 out of 5 with 27 vote(s).
All about Cookie
Pet Tip
Most dog owners are aware that dog noses are extremely sensitive. This is due to the quantity of olfactory or 'smell' receptors in a dog's nose. Whereas humans have around five million olfactory receptors, dogs have two hundred and twenty million. This makes their noses exponentially more sensitive than a human's. Most times a dog's sensitive nose works to our benefit. All kinds of dogs are used as service dogs to help humans find missing people, sniff out explosives, drugs etc. They can smell people coming from quite a distance and alert us to their presence. There are some embarrassing occasions however, when a dog's nose is just too sensitive from our human perspective. Most notably this occurs when dogs try to sniff humans in their private areas.
This behaviour is a common one in dogs and equally common is the fact that it upsets most dog owners. The reason some dogs sniff at a human's private parts is the same reason they sniff the private parts of other dogs. We know that when they smell other dogs in this way they can tell the sex, rank (is the dog more dominant or submissive) age and other information about the dog.
Owner:

L L

City:

Orangeville

Province, Country:

ON, Canada

Type/Breed:

Lhasa Apso

Date of Birth:

October 3 1987

Sex:

Female

Height:

Not Provided

Weight:

15

Coat Colour:

beige & white

Eye Colour:

brown
We got Cookie at Christmas in 1987 and she got her name because she begged us for the shortbread cookies when we were eating them
She is very dedicated to us and we love her very much. She grew up alongside our youngest daughter Lora who is 23 and misses her an awful lot because she moved to Vancouver. Lora used to enter her in the Fair dog show and they won ribbons! Cookie loves to do tricks although she can't do as many as she used to.
She hears very little which is hard because she used to love to hear our different expressions in our voice and respond to them eagerly. She also has cataracts so she can't see as good.
Our oldest daughter Lisa and husband have a 2 year old daughter that Cookie is getting used to and they are friends (unless Mia steps on her toes or something unexpected!) Mia loves to try to pet her.
During the day Cookie loves to sit in her bed on the window seat in the front of the house watching all that goes on outside.
Cookie likes to go to bed at 9pm and cries till we go to bed because she likes to sleep at the foot of our bed.
It's hard to see your pet slowing down but it's a blessing each day to still have her companionship and love and dedication and hope it will be for many more years yet.