Dexter's Tribute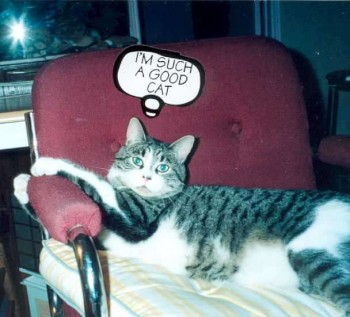 All about Dexter
Pet Tip
These days you hear a lot about the term 'dog whisperer' and most people associate the term with one particular dog trainer, Cesar Milan. Many people think that he created the term when in fact this is false. The term dog whisperer is actually a term borrowed from horse training, where certain trainers or horse whisperers seemed to be able to get horses to calm down and accept training or accept a rider on their backs. Their methods were often 'quiet' (as opposed to more traditional punitive techniques) to an observer as these trainers seemed to get results from quiet whispers. These days though, the term has been diluted and many people use the term loosely.
Owner:

John L

City:

Orangeville

Province, Country:

ON, Canada

Type/Breed:

Handsome

Date of Birth:

Not Provided

Date of Death

Sat. Feb. 21, 2004

Sex:

Male

Height:

Not Provided

Weight:

Not Provided

Coat Colour:

grey/white

Eye Colour:

Not Provided
Dexter was my brother John's best friend and I had the privilege of knowing and loving him too.
Dexter was the nicest cat ever. He was patient, funny, entertaining mischievous & affectionate.
In the picture you can see that Dexter would love to hang on tight to the arm of the chair and John would spin him around and he loved it.
II liked to call him "Jelly Belly" because when he walked his tummy swished back & forth. I also called him "Handsome" - because he was indeed handsome when he stretched out for petting. He liked to roll this way & that to show off how handsome he was.
I sometimes called him "Raccoon Butt" - for obvious reasons :) It was pretty funny to see him halfway out his cat window and all you could see was his butt.
He was a gentleman with his good friend "Sheba" who dearly misses him. Now she has to open her cat food without his "help". She watches for him constantly.
He loved to swing his window cat door back & forth like it was a game or maybe just to get attention. He had many ways of gettting attention and all were hilarious.
He is truly missed.
We love you Dexter