Dear Petlover,
Hi there it's Marko, one of the owners/administrators on Pets.ca and this is our first newsletter of 2010 so Happy New Year! We wish all our visitors and their pets an amazing 2010. We intend to put out only 1 newsletter every second month or so, so rest assured you will not get bombarded with mailings. If you think you know another pet lover that may like our newsletter, please just forward this email to them and ask them to sign up on almost any page on Pets.ca. Our past newsletters are always located here on Pets.ca but our latest newsletter is only available by subscribing by free subscription in the yellow navbar on almost every Pets.ca page. If you have any comments or suggestions feel free to email them to newsletter ( A T ) pets (Do T) ca (please use the correct formatting) Now, onto some info.
In terms of Pets.ca news, for the last couple of months we have been redesigning the entire website and it's just about finished. The look and functionality of Pets.ca will dramatically improve. Stay tuned, we are just a few weeks away.
Featured podcast (New VIDEO recording)
How to give pills to cats
Until a few months ago, all our podcasts were audio based. Recently though, we have started recording short 5 minute video podcasts. These shorter video podcasts are meant to demonstrate techniques that would be difficult to describe in an audio podcast. One of our most recent video podcasts describes how to give pills to cats. Animal trainer/behaviourist Sherry Bedard gives us a demonstration on how to do this even if you are alone. A video podcast on how to give pills to dogs will be released in just a few short weeks.
You can listen to this and other audio or video recordings easily by clicking the embedded player at the bottom of each particular post. Click here for the Giving Pills to Cats video podcast.
A podcast is simply audio or video (similar to a pre-recorded radio or T.V. program) that you can listen to on your computer or on an mp3 player like an ipod any time you like. At this time we have recorded over 55 shows and many of them are interviews with specialists like the trainers from Tenderfoot Training, Sherry Bedard and Dr. Lee our amazing podcasting veterinarian.
We realize that some people may still be confused about podcasting so if anyone has questions feel free to email me personally at marko (a T ) pets (D O T) ca – Please use the correct email formatting of course.
Just Answer – Fast answers from a live veterinarian 24/7

Although Pets.ca offers tons and tons of free pet information, sometimes pet lovers need a quick answer from a vet. Even though we associate with different vets including the amazing Dr. Lee, when you need an answer from a vet lickity split, you need a place to ask the question. We have just partnered with Just Answer for this very purpose. They always have vets online to help for a small fee. Full disclosure: This link gives Pets.ca a standard affiliate amount that helps support our site.
Advertise to 5,000 petlovers
Thanks to all of the petlovers that have told 2 friends about our newsletter and to everyone that has sent us private messages and emails telling us how much they like the newsletter. This newsletter now goes out to approximately 4,000 subscribers and new subscribers join daily. We want to keep this newsletter in its current format and so we are offering 2 spots for small sized ads; one spot will be at the very top of this newsletter the other spot will be to the right of this text. Please contact us for details if you are interested.
Pet Photography
Photography on Pets.ca – There are many places to see cute pet photography on Pets.ca including our Free cat webpages and Free dog webpages. We also have a special forum just for pet photography in our bulletin board, where each month we set up a challenge or theme. It's all fun and it's all free and here are just a few pictures from this winter. Here's the March 2010 challenge "The Look" and the April 2010 Photo Challenge – Song titles. This month's challenge is May 2010 – Thankful and pics from that challenge will go in our next newsletter. Thanks to aslan, wdawson, Love4himies, frenchy, sugarcatmom and Luvmypitgirls (March 2010 challenge – top set) and 14+kitties, babymomma, Benmax/frenchy, abmacdon, and Melinda (April 2010 challenge – lower set) for the use of their pics in this newsletter. Please note: There were MANY pix that we did not use even though we wanted to. We only use pictures that members from our pet bulletin board have allowed us to use by posting in this list. Please add your name if you want us to consider your images (it's fun and free).
March 2010 Challenge – "The Look"
April 2010 Challenge – Song Titles
Pet Videos
Pet videos are so cute and so much fun that we have decided to add pet videos to our bulletin board. We've only just started adding a few videos but the ones that we've added are likely to make you smile. One recent video is actually a tribute to the pets on our forum and was created by forum member klmccallum; thanks again klmccallum! It's really well done ESPECIALLY for a first video. Anyone can see all the videos but in order to comment, you need to be a bulletin board member (it's free).
Cat Punishment/Discipline
Sometimes cats engage in behaviour that we the owners don't appreciate. In order to make our cats behave in the way we want them to, we may try to punish them for their bad behaviour. Common reasons for wanting to punish a cat include marking behaviours (spraying), urination/defecation problems and scratching issues.
The number one rule of cat punishment or discipline is; You can only punish a cat if you catch it in the act. (You can read the full cat discipline tip here and much of that info. also applies to dogs.)
2 cute gifts for pets and pet lovers
New products for pet lovers have recently been added to our store including our new Ruler of the house charm and Favorite Child charm.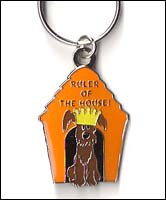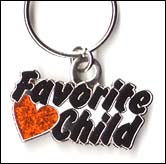 Suggestions Welcome and Our No Spam Policy
We love to get feedback and suggestions. That's the best way we can improve and give you the information that you want. Please send any suggestion or feedback to newsletter ( a T) pets.ca. (Please use the correct standard email formatting)
The people that put together this newsletter are pet lovers NOT spammers. At Pets.ca we absolutely hate spam. We hate getting it and we never send it on purpose. If by chance you received this newsletter and did not want it, we apologize. Clicking the unsubscribe link assures that you won't get this newsletter again.
© 2010 – Pets.ca – all rights reserved.