Dear Petlover,
Hi there it's Marko, one of the owners/administrators on Pets.ca and this is our first newsletter of 2012. We intend to only put out occasional newsletters, so rest assured you will not get bombarded with mailings. If you think you know another pet lover that may like our newsletter, please just forward this email to them and ask them to sign up on almost any page on Pets.ca. If you have any comments or suggestions feel free to email them to newsletter ( A T ) pets (Do T) ca (please use the correct formatting) Now, onto some info.
Featured podcast (Audio recording)
Wolves – Wolf Mixes are Dangerous Pets – Interview w/Dr. Stanley Coren

Many people love the idea of owning an 'exotic' pet because they are so different from what we normally see day to day. Wolves and Wolf hybrids are becoming sought after pets and we are starting to see more "wolves for sale" ads both on and off the Internet. But just because you CAN purchase something, it does not mean that you should.
In order to answer this question fully, we interviewed psychologist and dog expert Dr. Stanley Coren who clearly feels that these pets are dangerous. Dr. Coren answers the following questions in an audio interview. Why are wolves and wolf hybrids dangerous pets? Are wolves and dogs from the same line? How come we were able to domesticate dogs so easily?
For these answers, take a listen to the podcast as Dr. Coren takes us on a brief history tour of wolves, wolf mixes, dogs and dog domestication.
You can listen to these recordings easily by clicking the embedded player at the bottom of each particular post. Click here for the Wolf mixes and wolves are dangerous pets – Interview with Dr. Stanley Coren podcast.
A podcast is simply audio (similar to a pre-recorded radio program) that you can listen to on your computer or on an mp3 player like an ipod any time you like.
Advertise to 6,500 petlovers
Thanks to all of the petlovers that have told 2 friends about our newsletter and to everyone that has sent us private messages and emails telling us how much they like the newsletter. This newsletter now goes out to approximately 6,500 pet lovers with new subscribers joining daily. If you'd like to feature your pet product or service in this newsletter to our targeted audience of pet lovers, please email us at advertise at pets.ca (using standard email formatting).
Pet Photography
Photography on Pets.ca – There are many places to see cute pet photography on Pets.ca including our Pet photos section. We also have a special forum just for pet photography in our pet forum, where each month we set up a challenge or theme. It's all fun and it's all free and here are just a few pictures from this winter. Here's some cute and cuddly pictures from the February 2012 Photo Challenge – Hugs or Kisses. This month's challenge is March 2012 – Pets Looking Straight into the Camera and pics from that challenge will go in our next newsletter. Thanks to Marty11, pbpatti, Carmy and hazelrunpack for the use of their pics in this newsletter. Please note: There were a few pix that we did not use even though we wanted to. We only use pictures that members from our pet bulletin board have allowed us to use by posting in this list. Please add your name if you want us to consider your images (it's fun and free of course).
February 2012 Challenge – Kisses or Hugs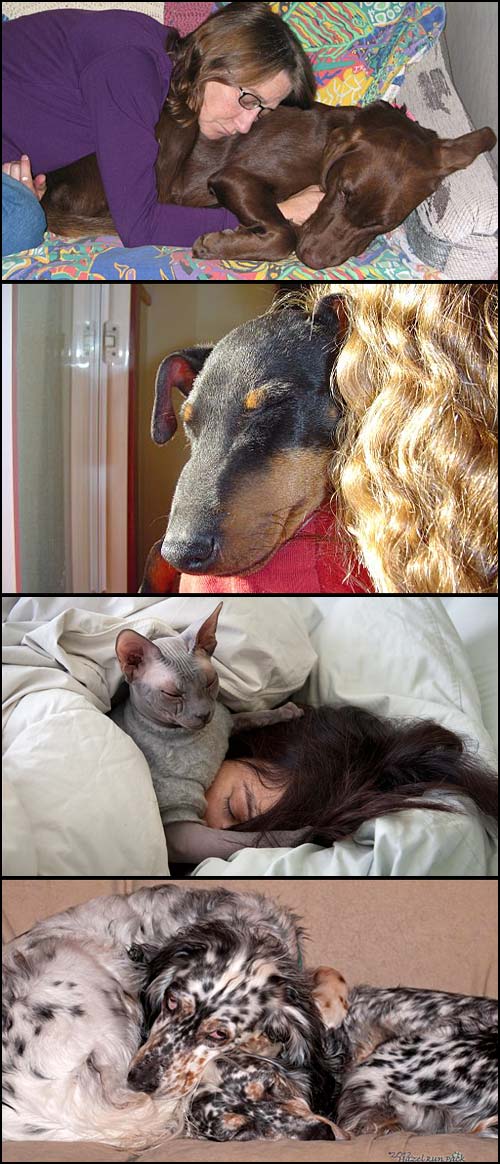 Pet Videos
Animal videos are so cute and so much fun that we have decided to add pet videos to our pet forum. We've only just started adding a few videos but the ones that we've added are likely to make you smile. One that is busting with sweet cuteness is Baby goat hopping. Anyone can see all the videos but in order to comment, you need to be a bulletin board member (it's free).
Blood Donation Programs for Pets
We all know of the importance of donating blood from a human medicine perspective; collecting and maintaining a blood bank ensures that there will be an adequate supply of blood available when it is most needed, for instance during surgery or following an accident. But what about a blood donation program for our pets? After all, they undergo many of the same medical procedures as we do; is there a program in place for them? It turns out that there is, and certain organizations are looking for you and your pet to help out and donate blood.
While there isn't a national blood donor organization for animals as there is with humans, there are several smaller organizations that exist across the country. Several of the veterinary colleges have one in place, so if you happen to live close to a veterinary school, that would be a great place to check out. There are other organizations as well, including the Canadian Animal Blood Bank, and Lifestream Animal Blood Bank. Check out their websites for more information about locations and donor details. These organizations all offer some type of incentive package as a way of encouraging you to bring in your pet; the packages will vary, but many will include a free physical exam, free blood profile test, and free heartworm testing. In return, the organization will require you to commit to bringing in your pet every few months for the actual blood collection (lengths vary with the organization, but the average seems to be about every three months). Read the full article on Blood Donor Organizations for Dogs and cats here.
2 cute gifts for pets and pet lovers
Funky Pet ID tags are always a fun way to keep your pets safe and give them some style. Here are 2 of our bestsellers. Flower power Pet ID tag and Monkey Pet ID tag
Suggestions Welcome and Our No Spam Policy
We love to get feedback and suggestions. That's the best way we can improve and give you the information that you want. Please send any suggestion or feedback to newsletter ( a T) pets.ca. (Please use the correct standard email formatting)
The people that put together this newsletter are pet lovers NOT spammers. At Pets.ca we absolutely hate spam. We hate getting it and we never send it on purpose. If by chance you received this newsletter and did not want it, we apologize. Clicking the unsubscribe link assures that you won't get this newsletter again.
© 2012 – Pets.ca – all rights reserved.