Pets.ca – Monthly pet newsletter – June 2008
Dear Petlover
Hi there it's Marko, one of the owners/administrators on Pets.ca and this is our first newsletter of the of summer 2008. We intend to put out only 1 newsletter a month so rest assured you will not get bombarded with mailings. Many thanks to those people that sent emails saying how much they liked our last pet newsletter that we put out back in April. We had been on a newsletter break for quite a while, but we are back and are using a new friendlier more efficient system. If you think you know another pet lover that may like our newsletter, please just forward this email to them and ask them to sign up on almost any page on Pets.ca. Now, onto some pet information.
Featured podcast (audio recording)
Diseases common in small dogs – diseases common in large dogs
Our last 2 podcasts (audio recordings you can listen to on your computer or MP3 player) discuss common possible health problems when you get either a large dog or a small dog. A few of these health problems are surprising. For example, hip dysplasia is a problem that is usually associated with large dogs, but it is also common in small dogs. Oral diseases would be a disease that you expect to affect both small and large dogs equally. This isn't the case however, small dogs seem to suffer more from this problem.
You can listen to these recordings easily by clicking the embedded player at the bottom of each particular post. Click here for Small dog diseases, Click here for large dog diseases.
A podcast is simply audio (similar to a pre-recorded radio program) that you can listen to on your computer or on an mp3 player like an Ipod any time you like. At this time we have recorded 39 shows and many of them are interviews with specialists like the trainers from Tenderfoot Training and with Dr. Lee our amazing podcasting veterinarian.
We realize that some people may still be confused about podcasting so if anyone has questions feel free to email me personally at marko (a T ) pets (D O T) ca – Please use the correct email formatting of course.
Pet Photography
Photography on Pets.ca – There are many places to see cute pet photography on Pets.ca including our Free cat webpages and Free dog webpages. We also have a special forum just for pet photography in our bulletin board, where each month we set up a challenge or theme. It's all fun and it's all free and here are just a few pictures from the April Pets doing foolish things and the May Pets and green challenge. This month's challenge is June – Summer fun and pics from that challenge will go in next month's newsletter. Thanks to Aslan, Chico2, TeriM Kashi, (April challenge – top set) and Shredy, Onester, Hazelrunpack and JanM (May challenge – lower set) for the use of their pics in this newsletter.
April photo challenge – Pets doing foolish things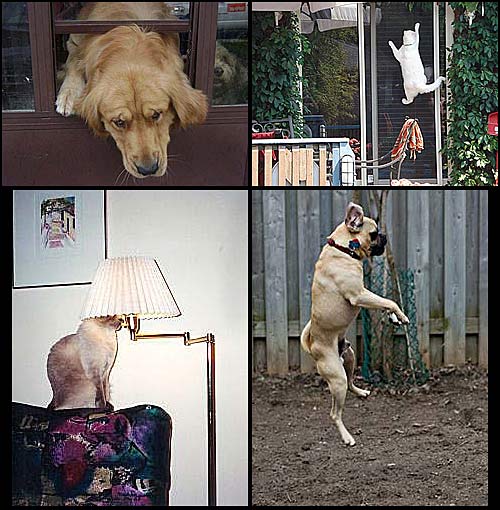 May photo challenge – Pets and green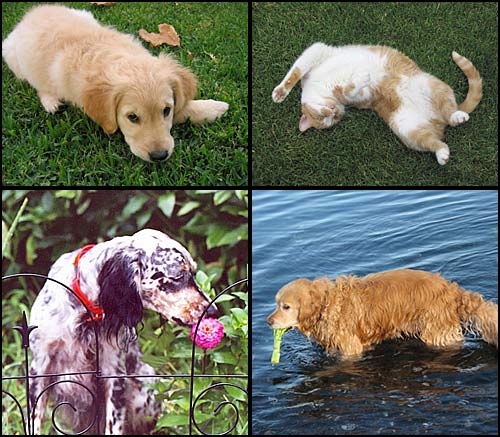 Music and Pets
Even though we often think that our pets live without stress, pets suffer from stress just like we do. What do they have to be stressed about you might ask? An obvious stressor for your pet can easily be moving, or getting a new baby or bringing a new pet in the house. In fact any major change in your pet's life can cause it to suffer from stress.
Aside from that however our pets are also keenly attuned to the way we are feeling so if we are feeling stress, we can easily transfer that to our pets. Pets that live with regular stress can become depressed and they can also develop behaviour problems. If you think this is possibly happening to your own pet, a veterinary consult would probably be a good idea.
A nice way to relieve some of the stress for humans and cats and dogs is through music. Pets are indeed affected by music and soothing classical music does relieve stress for the both of you. Click here for the full pet tip on Pets and music.
2 cute gifts for pets and pet lovers
New products for pet lovers have recently been added to our store including a few models of ribbon magnets with proactive messages that make great gifts for pet lovers. Our new Pet picture frame magnets are a fun way to always have your pet's picture around. They are also perfect to help you remember your grocery list.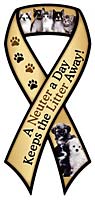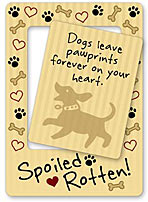 No Spam and suggestions
We love to get feedback and suggestions. That's the best way we can improve and give you the information that you want. Please send any suggestion or feedback to newsletter ( a T) pets.ca. (Please use the correct standard email formatting)
The people that put together this newsletters are pet lovers NOT spammers. At Pets.ca we absolutely hate spam. We hate getting it and we never send it on purpose. If by chance you received this newsletter and did not want it, we apologize. Clicking the unsubscribe link assures that you won't get this newsletter again.
© 2008 – Pets.ca – all rights reserved