Welcome to our ninth issue of the Pets.ca newsletter. This issue starts off the Christmas season (yes it has started) with a story on buying a new puppy. Thousands of people get pets as gifts for Christmas, and within a few months these pets often end up at the pound. Please read the first article carefully if you are considering buying anyone a puppy around Christmas time.
As with previous issues, we welcome your feedback and your suggestions. We want to know what interests you, and how you feel about all things pet related. Please send your comments and/or suggestions to newsletter@pets.ca
Thanks again for signing up,
Marko Kulik – Webmaster
Dave Kurzman – Webmaster
Inside This Issue
Before you buy that puppy
Pet of the Month
Breeder Listings
Featured Products
Classified Ads
Ask the Expert
Calendar of Events
Pet – 411 Listings
In The News
The Fine Print
Before You Buy that Puppy
by David the Dogman
" How much is that doggy in the window, the one with the waggly tail…?" Familiar words to an old tune suggests that many people at one time or another consider having a dog as a pet. They might have fond memories of the old Boxer or Cairn terrier that they grew up with. Maybe it was a good-natured mutt or even a neighbour's well-behaved German Shepherd. Some folks imagine owning a beautiful and heroic dog such as "Lassie" of book and screen fame.
Often, the reality is that many pups purchased on impulse wind up in shelters or banned to a chain in the garden because they didn't measure up to the dream. This is written to help you consider the answers to the questions you should ask before buying that cute little puppy.
Are you ready for a life long commitment to responsible dog ownership? Let's think through and visualize what dog ownership is really like. It is fun to imagine walking an obedient dog on a beautiful day, but remember, the same dog will need walking when its hot, cold, raining or icy out. The "Obedient" part will take time and effort. In deciding whether a dog will fit into your lifestyle, the biggest consideration in the long run will be "Do you have the TIME it takes to own a dog?
Questions
Some dogs need more time than others do, but every dog requires time for daily interaction beyond just meeting its basic needs. Consider your lifestyle and personality when deciding if a dog would fit into the picture.
Why do you want a dog?
How active and busy are you?
What do you do with the dog when you travel or are on vacation?
Do you have young children?
Do you have a fenced garden?
How big is it?
How long at a time will the dog be alone in the home?
Does anyone have allergies? (Easier to find this out visiting someone else's dog first) Would you have the time to start with an untrained puppy or would you be willing to re-train an older dog?
What kind of fur and how much grooming/shedding are involved?
What size would fit in?
Purebred? Mixed? Male? Female? Large? Small?
Dogs needs
Puppies and adult dogs have daily needs. The basics are shelter, food and water, grooming, health care, training, exercise and social interaction. The earlier in life you start teaching a pup what is expected of it the better, but the more it has to learn. With an older dog, there may be some bad habits they'll have to 'unlearn'. Early social experiences set the tone for a dog's development into a dependable companion or a destructive nuisance.
Training
Socialization Puppy Training (9-18 weeks.) will certainly mold the pup during its most impressionable period and helps provide an environment for learning positive associations with new people, places, experiences and other dogs. Patterns are set for life in these formative weeks. However it is essential that young dogs from 4 months to one year attend training classes.
Cost
Besides training, there are other expenses incurred with dog ownership. After the initial purchase, the biggest portion will go toward veterinary and feeding bills. A high quality food costs more 'per bag' but is very cost effective in terms of better health and food efficiency (you feed less). Veterinary start-up costs, including immunizations and worming, Microchips are also required by law for identification is not cheap. Neutering and spaying usually takes place around 6 months. Semi-annual vet visits, heartworm testing and preventative medications, unexpected illnesses or accidents all add up! Then there is the control of internal and external parasites to consider (worms, fleas, ticks, mosquitoes and mites etc.)
Grooming requires the proper tools to care for coat, ears, teeth, and nails. (For some breeds, there is the additional expense of a professional groomer 8-9 times a year.) Microchips are also required by law for identification.
Basic supplies include sturdy food and water bowls, leash and collar, bedding, cage, chew toys, food treats, indoor gates, outdoor fencing, kennels and housing.
Although lovable, puppies and dogs will create additional cleaning work around the home. (Accidents: diarrhea, urine, vomit), shedding hair, muddy paws, drool, tracked on floors and carpeting, nose prints on windows etc.) Responsible dog ownership dictates cleaning up dog garden waste, keeping dogs reasonably quiet and confined to their own property. Dogs are known for destructive chewing and digging holes. These problems can only be successfully dealt with through supervision and confinement and early puppy training (starting at two months.)
So, why on earth would anyone want a dog with all the work, time and expense of owning one? For many reasons, but the biggest one for most people is that they enjoy the loyalty and companionship of a dog. Dogs like to play. Folks like the way they interact in the family, the way that the dog looks and the home security a properly trained dog can add. If you are willing to make a time commitment for the next 10 years (the average life span of a dog); knowing the responsibility and expense of owning a dog and fully aware of the likely negative elements involved, then, the next step would be to decide what kind of dog best fits into your lifestyle.
Breeds
Do not make the drastic mistake of choosing a breed solely on its 'looks'. Although this is one consideration, the temperament, size, activity level and coat care are even more important considerations. Unfortunately a pup is sometimes chosen impulsively because it looked like a 'cute little teddy bear' and then the teddy grows up to me more like a 'grizzly' because the breed is a type bred for high levels of aggression. Or a pup may prove to have an energy level that requires more exercise and attention than can be provided.
Research
Research the breeds that appeal to you. Libraries carry breed books and local veterinarians may be able to put you in touch with reputable breeders. Local dog shows allow you to view a variety of purebred dogs. Find out about the positive and the negative traits of each breed you are considering. Ask questions: How big do they get? How much grooming is required? How aggressive are they? How active? How much exercise is required? Are they good with children? Are allergies a consideration? Don't discount mixed breeds.
Good Luck with your new pet and come to training classes.
Commitment, Firmness, but kindness.
Pet of the Month (November) Meet Oliver
Name: Oliver
Province/State, Country: Netherlands
Type/Breed: British short hair
Date Of Birth: 21 Jan 03
Sex: Male
Height: 7 inches
Weight: 5 lbs
Coat Colour: blue
Eye Colour: copper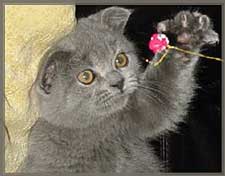 Click here to view Oliver's Page
Would you like to have a Free webpage for your pet?
Maybe your pet will be displayed in Next Month's Issue.
Can't decide what dog is best for your family?
The Breeder Listings will give you the information you need.
Pets.ca has profiles of over 150 different dog and cat breeds that include the names of breeders in Canada
Our newest breeders include
For just a small fee, you can have your breeder information listed here and on pets.ca.
CLICK HERE for more information.
November's Featured Products

This exquisite metal (pewter or brass finish) and virtually indestructible ID Tag features a picture of a Daisy in the middle of it. Available in small for cats and small dogs. Also available in medium and large.
Your pet will look sharp wearing one of these custom engraved unique tags.
Our price: $12.99 (Canadian)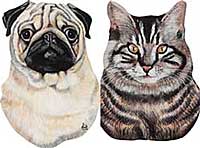 This is a great gift item for a pet lover and makes a perfect stocking stuffer.
Features include
Excellent facial detail
Extremely sturdy
Holds four to five 8.5″ x 11″ sheets of paper on a fridge
Full magnetic back
Our price: $9.95 (package of 2)

In the event of an emergency are you prepared to provide first aid for your animal? Accidents and emergency situations always occur when you least expect them. Owning your very own first aid kit is your first step in providing first aid for your pet until you can seek veterinary care.
Special discount(-30%)
Our price: $27.95 (Canadian)
Regular price- $39.95
Classified Ads
Dog Trainers wanted to teach Group Obedience Classes throughout Canada. Animal Behavior and Training Associates is a nationwide company with locations in 45 states and 5 Canadian provinces.
Please call 1-800-504-6105 for more information.
Kilokas pet aid products and services. Pet first aid courses/products. For more information,
Call Chantale 514-830-2387or email chantale@kilookas.com
Need a Speech Fast? Need To Say a Few Words?
For speeches and toasts that will spellbind your audience and leave them asking for more go to http://www.occasionalwords.com/speeches/business.php3
To include your classified ad here, simply send us a copy of your ad to newsletter@pets.ca. The cost for your ad is $16.95 for up to 20 words of text (additional words charged at .50/wd). Your ad will be sent out to our full membership registry as well as all future newsletter subscribers.
Ask the Expert
Vomiting – cats and dogs – General rules of thumb
When should you be concerned about a dog that vomits? You should be concerned if a). there has been any known exposure to toxins, garbage, perhaps a bone, plants, antifreeze, drugs etc. If there is repeated vomiting and wretching, perhaps 3-4 times in a row and if your dog is looking depressed.b) if there is refusal to eat at the next meal after a vomiting episode.
When should you be concerned about a cat that vomits ? The above situations are the same with cats… i.e. with any known exposures, or if there are repeated vomiting episodes in a short while.
What are the reasons for a cat vomiting and a dog vomiting? Perhaps the most common cause I see is dietary indiscretion. This is more common in young pets especially cats and puppies, as they age, cats are usually more discretionary when compared to dogs. Generally speaking, the younger the animal the more likely they "got into something" and often with a short 12 hour fast, they will likely come around well. With middle aged pets, it is more likely they may have a flare up of inflammation of the bowel, pancreatic problems etc. With older animals, you need to concern yourself with more serious disorders such as kidney or liver disease or a primary intestinal disorder such as cancer. Please seek the advice of your veterinarian!
Are there over the counter and prescription medications that can be used for vomiting in cats and dogs. Kaopectate can sometimes help… about 2cc/kg every 4-6 hours. In dogs (not cats), often a bit of peptobismol may work at the above dose. You can also try Nux-vomica 30c repeated every few hours for three doses, or Ipecac 30c (HOMEOPATHIC) the same regimen for cats and dogs.
*NOTE: Initially, with any vomiting or diarrhea case, I usually recommend a 12-24 hours fast to allow the system to clean out and allowing the pet small amounts of liquids during the fast. This should be followed with a bland diet of boiled meat and rice or potato in small amounts until the symptoms subside, then slowly return to it's normal meal. Usually if this persists beyond this time, or if the pet looks depressed, you should probably take it in to your Veterinarian.
© Michael Goldberg DVM
Michael Goldberg DVM
Hudson Place Veterinary Clinic
1300 West 73 Ave.
Vancouver, B.C. V6P 3E7
604-266-2731
www.hudsonplacevetclinic.com
Click here to see the entire Bulletin board thread.
Calendar of Events
November 15 – Lucy Rescue adoption Clinic
IGA Hudson, 484 Main Road, Hudson (in the shopping centre) on
from 10 – 4. Contact luckyrescue@hotmail.com for more info.
Nov 15 – 16 2003 Disc Dog Competition CCDA Sanctioned
Location – Olympic Stadium, Montreal Quebec
Contact – guides.canins@sympatico.ca
Rosie's First Christmas Bazaar & Bake Sale -
Sunday, November 23, at the Pine Beach Citizen Association Hall
(It is known as P.B.C.A) in Dorval from 11-4.
Contact – 514-217-dogs or go to www.rosieanimaladoption.ca
Montreal International Dog Show
All Breed Championship Show – Obedience Trials and agility competition
November 28, 29 and 30, 2003
Exhibition hall – Place Bonaventure
Contact Diane Newman 514-488-1966
If you have any pet related events (e.g., pets shows, pet craft shows, etc.), please forward them to us for inclusion in the next edition of our newsletter. There is no charge for this service.
Simply send us an e-mail to events@pets.ca
Pets411: National Pet Service Directory
Pets.ca offers free searching of over 10,000 CANADIAN listings broken down into 15 provider categories.
Our newest Top Links include:
Ontario
British Columbia
To have your business listed in the National Pet Service Directory, click here.
In the News
Thankfully, cooler temperatures have finally arrived. There is nothing better than the beautiful cool weather that the fall season brings.
$5 million veterinary emergency hospital being built in Oakville will offer cancer treatment, orthopedic surgery and eventually a CAT scan and MRI in what is said to be the largest such medical treatment facility for pets in Canada.
More articles from Canada and around the world are available here.
PetsLetter
The Pets.ca Newsletter is published 12 times per year. Subscription through the Internet is free, regular mail subscription rate is $29.95 per year. You have been sent this newsletter because you or someone at this e-mail address requested it. You can easily unsubscribe from this newsletter by going to http://www.pets.ca/index-newsletter.htm and clicking on unsubscribe. You can also send us an e-mail at newsletter@pets.ca with the word unsubscribe in the subject field.
We apologize if you receive multiple copies of this newsletter. We are working to ensure that multiple copies are no longer sent. Please e-mail us if you have received more than one copy of this newsletter.
For information including advertising opportunities and process details, please;
Visit our Website (http://www.pets.ca/index-newsletter.htm) or
Contact Marko at 514-999-0202 (marko@pets.ca)