Welcome to our eighth issue of the Pets.ca newsletter. This issue features two important articles on pet nutrition; one on older pets and their eating habits and one on dairy products. Keeping in line with this theme, our expert answers the common pet health question on constipation which is often related to nutrition.
As with previous issues, we welcome your feedback and your suggestions. We want to know what interests you, and how you feel about all things pet related. Please send your comments and/or suggestions to newsletter@pets.ca
Thanks again for signing up,
Marko Kulik – Webmaster
Dave Kurzman – Webmaster
Inside This Issue
Feeding Older Pets
Pet of the Month
Dairy products and pets
Breeder Listings
Featured Products
Classified Ads
Ask the Expert
Calendar of Events
Pets411 Listings
In The News
The Fine Print
Feeding the Geriatric Dog and Cat
The nutritional requirements of aging pets have been the subject of much discussion in recent years, particularly with the introduction of therapeutic specialty diets. Even though there is little experimental information on the nutritional requirements of senior dogs and cats, commercial diets are nevertheless currently available on the market designed specifically for the geriatric pet. These diets differ from adult maintenance diets in that they contain altered protein and fat levels, fibre content, and vitamin/mineral levels. Whether or not these changes are necessary in all older pets remains to be seen.
Aging results in numerous changes in the geriatric dog and cat that have a direct effect on their nutritional requirements. These changes occur in all the organ systems, causing a decline in body functions and a decreased ability to maintain optimal health . As pets get older, long-term exposure to oxidants, both within the body and outside the body, results in the production of harmful molecules called "oxygen-free radicals". These radicals cause damage to cells in the body. Aging is also associated with a decline in efficiency of the immune system and, since nutritional deficiencies and excesses can modify the immune response in animals, the nutritional make-up of the senior diet must take these factors into account.
As pets get older, there is a decrease in total energy needs because of reduced physical activity and a decline in their ability to metabolize what they eat. For this reason, it is usually recommended that older animals be fed fewer calories per unit of body weight than a younger animal in order to maintain a constant body weight. However, the energy intake of a pet should be based on the individual needs of the pet rather than reducing the caloric intake in all geriatric pets regardless of health status or body mass.
Most older pets, regardless of health status, will benefit from some nutritional guidelines. For example, because food intake is often reduced in the older pet, the percentage of protein may need to be increased modestly in order to maintain an adequate protein intake per unit body mass. There is presently no evidence to indicate that protein restriction in the normal pet will prevent development of kidney disease. Similarly, in those pets that have a reduced food intake, moderate increases (e.g. 25-50%) in the concentrations of vitamins and minerals in the diet may also be beneficial. Increased dietary fibre in the geriatric diet can be helpful but may not be indicated in all senior pets. Current studies indicate that the digestive system of older dogs and cats is very little affected by age and older pets are no less efficient in extracting nutrients from food than younger animals.
Aging brings with it numerous changes which adversely affect normal body functions. However, it is important to realize that these changes do not necessarily affect all pets at the same time. There is currently no evidence to suggest that all geriatric pets would benefit from a specially-formulated therapeutic diet designed specifically for older animals. Above all, it is important for the practitioner to distinguish between the normal, healthy geriatric pet and one that exhibits clinical signs related to diseases due to the aging process before making any recommendations regarding dietary changes.
Reprinted with permission from animalhealthcare.ca
Pet of the Month (August) Meet Chico
Name: Chico
City: Calgary
Province/State, Country: AB, Canada
Type/Breed: Chihuahua /Neutered
Date Of Birth: April 26 1998
Sex: Male
Height: 8.26 inches
Weight: 9.2 lbs
Coat Colour: sable
Eye Colour: brown
Can bear children: No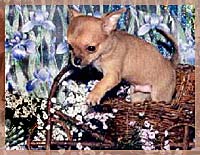 Click here to view Chico's Page
Would you like to have a Free webpage for your pet?
Maybe your pet will be displayed in Next Month's Issue.
Some Pets Unable to Tolerate Dairy Products
While milk is not necessary to a dog's (or cat's) diet, it can be a treat if given from time to time. However, some pets cannot tolerate milk because they do not produce an enzyme called lactase. Lactase helps with the digestion of lactose, which is found in milk. After weaning, the level of lactase activity falls to about 10 per cent of its peak activity. In some animals, diarrhea will occur if more lactose (i.e. milk) is consumed than the pet can digest. This is called "lactose intolerance".
A further contributing factor is the fact that cow and goat milk contains 4.5 to 5 per cent lactose, compared to 3.1 per cent in a bitch's milk (lactating female dogs) and 4.2 per cent in a queen's milk (lactating female cats). The high level of lactose in cow's milk can overpower a dog or cat's ability to digest it. This is why many pups and kittens often get diarrheea from drinking cow's milk. This does not mean that milk is unhealthy for dogs and cats. On the contrary, in pets that are able to tolerate it, milk can be an excellent source of protein and calcium.
Pets with milk intolerance can still consume dairy products under certain circumstances. For example, dairy products such as cheese (including cottage cheese) and unpasteurized yogurt usually have the lactose removed or have it partially broken down through bacterial action. As a result, these products are often well tolerated by cats and dogs that would otherwise get diarrhea after drinking milk.
It should be stated that neither boiling milk nor the use of skim milk affects an animal's ability to tolerate milk, since the lactose content remains unchanged in either case. The same applies to pasteurized yogurt and cultured milk (e.g. buttermilk), neither of which is well tolerated by lactase-deficient pets.
If a dog or cat has loose stools whenever milk is fed, that pet is likely to be lactose intolerant and milk should be withheld. It is also wise to advise your veterinarian of this fact and discuss the potential implications involved with regard to your pet.
Reprinted with permission from animalhealthcare.ca
Can't decide what dog is best for your family?
The Breeder Listings will give you the information you need.
Pets.ca has profiles of over 150 different dog and cat breeds that include the names of breeders in Canada
Our newest breeders include
For just a small fee, you can have your breeder information listed here and on pets.ca.
CLICK HERE for more information.
August's Featured Products

This exquisite metal (pewter or brass finish) and virtually indestructible ID Tag features a picture of a Heart in the middle of it. Available in small for cats and small dogs.
Your pet will look sharp wearing one of these custom engraved unique tags.
Our price: $12.99 (Canadian)

In the event of an emergency are you prepared to provide first aid for your animal? Accidents and emergency situations always occur when you least expect them. Owning your very own first aid kit is your first step in providing first aid for your pet until you can seek veterinary care.
Special discount(-30%)
Our price: $27.95 (Canadian)
Regular price- $39.95

This exquisite metal (pewter or brass finish) and virtually indestructible ID Tag features a picture of a Paw in the middle of it. Available in small for cats and small dogs.
Your pet will look sharp wearing one of these custom engraved unique tags.
Our price: $12.99 (Canadian)
Classified Ads
Dog Trainers wanted to teach Group Obedience Classes throughout Canada. Animal Behavior and Training Associates is a nationwide company with locations in 45 states and 5 Canadian provinces.
Please call 1-800-504-6105 for more information.
Kilokas pet aid products and services. Pet first aid courses/products. For more information,
Call Chantale 514-830-2387or email chantale@kilookas.com
Need a Speech Fast? Need To Say a Few Words?
For speeches and toasts that will spellbind your audience and leave them asking for more go to http://www.occasionalwords.com/speeches/business.php3
To include your classified ad here, simply send us a copy of your ad to newsletter@pets.ca. The cost for your ad is $16.95 for up to 20 words of text (additional words charged at .50/wd). Your ad will be sent out to our full membership registry as well as all future newsletter subscribers.
Ask the Expert
Constipation – constipated cat constipated dog – General rule of thumb
Let me start by separating both cat and dog conditions since they are very different even though the symptoms may appear similar:
For cats, the most common cause of constipation is furballs from grooming. Often cats vomit up these furballs as fur sausages, however some cats are more prone to getting constipation from these as they pass through the intestines if they do not vomit them. It is for this reason that we recommend a hairball or furball paste to be given to even healthy cats 1-2 x weekly to avoid the constipation problem.
Obviously there may be less common causes of constipation including eating toys or other non food items that may get stuck, neurological diseases, cancer of the intestines to name a few.
If there is no response to hairball pastes for constipation in 2-3 days or if he looks ill, then a visit to the vet is definitely warranted.
For dogs, straining to poop frequently, sometimes producing a stool that may be mucus coated or bloody or even liquid squirting when they strain, is far more commonly caused by a large bowel infection that constipation. The analogy I can give you is that of someone who is lactose intolerant, and eats pizza, is going to need to visit the washroom soon after due to the burning sensation in their large bowel. A similar situation occurs with dogs causing frequent urges and attempts to poop, causing straining. Eventually this can cause a really bad diarrhea in dogs with squirting bloody diarrhea. Causes include parasites, infections such as E.Coli, Salmonella or some other bacteria, viruses, stress, changes of food, new treats or bones, spicy or fatty foods etc.
Constipation in dogs is possible, causing hard, dry stool. Common causes for this would be eating unusual objects, bones or prostate disease in unneutered male dogs. Both conditions in dogs usually don't clear up without medical intervention so I would suggest a visit to your regular vet.
Martin Slome DVM
Centre Street Animal Hospital
7700 Bathurst Street Units, 40-42
Thornhill
Ontario
L4J 7Y3
Tel. (905) 771-9855
Click here to see the entire Bulletin board thread.
Calendar of Events
Sept 7, 2003 – Dog Disc Competition CCDA Sanctioned
Location – D.O.G. Sports CentreAlton, Ontario
Contact – Dawn Kadish dog@accglobal.net
Sept 14, 2003 – Bark in the Park
Location – Benson Park, Hudson, Quebec
Contact – 514-217-dogs or go to www.rosieanimaladoption.ca
Sept 20, 2003 Disc Dog Competition CCDA Sanctioned
Location – Barkside Niagara Falls, Ontario
Contact -muttluck@vaxxine.ca
If you have any pet related events (e.g., pets shows, pet craft shows, etc.), please forward them to us for inclusion in the next edition of our newsletter. There is no charge for this service.
Simply send us an e-mail to events@pets.ca
Pets411: National Pet Service Directory
Pets.ca offers free searching of over 10,000 CANADIAN listings broken down into 15 provider categories.
Our newest Top Links include:
British Columbia
Quebec
To have your business listed in the National Pet Service Directory, click here.
In the News
People will soon be able to bring their vaccinated pets from the USA and Canada to the UK.
Traveling dog owners need to no longer worry about what to do with their dogs when they go on vacation.
More articles from Canada and around the world are available here.
PetsLetter
The Pets.ca Newsletter is published 12 times per year. Subscription through the Internet is free, regular mail subscription rate is $29.95 per year. You have been sent this newsletter because you or someone at this e-mail address requested it. You can easily unsubscribe from this newsletter by going to http://www.pets.ca/index-newsletter.htm and clicking on unsubscribe. You can also send us an e-mail at newsletter@pets.ca with the word unsubscribe in the subject field.
We apologize if you receive multiple copies of this newsletter. We are working to ensure that multiple copies are no longer sent. Please e-mail us if you have received more than one copy of this newsletter.
For information including advertising opportunities and process details, please;
Visit our Website (http://www.pets.ca/index-newsletter.htm) or
Contact Marko at 514-999-0202 (marko@pets.ca)