Welcome to our seventh issue of the pets.ca newsletter. We would like to welcome Petcare pet insurance as the featured sponsor this month. Their pet insurance plans will give you peace of mind if ever your cat or dog should get sick. Speaking of sickness we have 2 important featured health related articles this month; one on West Nile virus, the other on Rabies .
As with previous issues, we welcome your feedback and your suggestions. We want to know what interests you, and how you feel about all things pet related. Please send your comments and/or suggestions to newsletter@pets.ca
Thanks again for signing up,
and we hope you had a Happy Canada Day – Happy 4th of July!!
Marko Kulik – Webmaster
Dave Kurzman – Webmaster
Inside This Issue
Cats and rabies
Pet of the Month
West Nile virus
Breeder Listings
Featured Products
Classified Ads
Ask the Expert
Calendar of Events
Pets411 Listings
In The News
The Fine Print
Does your cat need protection from rabies?
(NC)—According to the Canadian Veterinary Medical Association (CVMA) and the Canadian Food Inspection Agency, the answer is an unqualified 'yes'. Recent statistics show that 75% of Canadian cats are not vaccinated against the deadly rabies virus.
"With increasing development, rabies virus carriers, such as skunks, bats, racoons and foxes, are increasingly entering urban areas, bringing them closer to our pets", says Dr. Nigel Gumley of the CVMA. The problem does not stop with our pets. The transmission of rabies to humans is also a public health concern. A Nova Scotia family of four was treated for rabies earlier this year after being exposed to the disease by their cat. In another incident, an apartment cat in Saskatchewan caught an infected bat on the balcony. Rabies can affect a person's central nervous system with fatal results.
The "Hunted Hunter" feline rabies awareness program provides cat owners with a quick guide to understanding the risks that their cat may be exposed to. Pet owners are encouraged to ask their veterinarian about the "Hunted Hunter" program and to discuss how to best protect their cat.
Pet of the Month (June/July) Meet Kiwi
Name: Kiwi
City: Grande Prairie
Province/State, Country: AB, Canada
Type/Breed: DSH
Date Of Birth: June 14, 2002
Sex: Female
Weight: 12 lbs
Coat Colour: grey/white
Eye Colour: green
Can bear children: No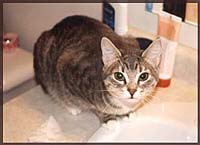 Click here to view Kiwi's Page
Would you like to have a Free webpage for your pet?
Maybe your pet will be displayed in Next Month's Issue.
West Nile Virus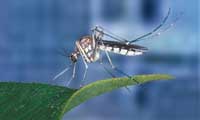 (NC)—The evidence shows that most people infected with West Nile virus got it from the bite of an infected mosquito. A mosquito becomes infected when it feeds on the blood of a bird that is infected with the virus. About two weeks later, the mosquito becomes capable of passing the virus to people and animals by biting them.
There is no evidence to suggest that people can get WN virus by touching or kissing someone who is infected, or from being around a health care worker who has treated an infected person. Likewise, there is no evidence to date that the virus can pass from infected animals (horses, pets, etc.) to people.
For more detailed information about West Nile virus or to link to your provincial or territorial web site, visit Health Canada's West Nile virus web site at www.westnilevirus.gc.ca
Can't decide what dog is best for your family?
The Breeder Listings will give you the information you need.
Pets.ca has profiles of over 150 different dog and cat breeds that include the names of breeders in Canada
Our newest breeders include
For just a small fee, you can have your breeder information listed here and on pets.ca.
CLICK HERE for more information.
May's Featured Products

This exquisite pewter and virtually indestructible ID Tag features a picture of a Daisy in the middle of it.
Your pet will look sharp wearing one of these custom engraved unique tags.
Our price: $12.99 (Canadian)

In the event of an emergency are you prepared to provide first aid for your animal? Accidents and emergency situations always occur when you least expect them. Owning your very own first aid kit is your first step in providing first aid for your pet until you can seek veterinary care.
Special discount(-30%)
Our price: $27.95 (Canadian)
Regular price- $39.95

CHARM – Rainbow flag These charms are made from a pewter metal mix. They are perfect accessories for your dog or cat collars and can also be used to accessorize keychains. This charm depicts a rainbow coloured flag.
Unit Price: CDN$5.95
Classified Ads
Dog Trainers wanted to teach Group Obedience Classes throughout Canada. Animal Behavior and Training Associates is a nationwide company with locations in 45 states and 5 Canadian provinces.
Please call 1-800-504-6105 for more information.
Kilokas pet aid products and services. Pet first aid courses/products. For more information,
Call Chantale 514-830-2387or email chantale@kilookas.com
Need a Speech Fast? Need To Say a Few Words?
For speeches and toasts that will spellbind your audience and leave them asking for more go to http://www.occasionalwords.com/speeches/business.php3
To include your classified ad here, simply send us a copy of your ad to newsletter@pets.ca. The cost for your ad is $16.95 for up to 20 words of text (additional words charged at .50/wd). Your ad will be sent out to our full membership registry as well as all future newsletter subscribers.
Cat urine – strong smell – Answer by Dr. Goldberg
Question:
I have a cat whose urine is so strong when using the litter box it drives us out of the house. This is not your normal odor as I have had many cats and the other cats that I have now do not have this horrible odor. I am wondering if anyone else has had this problem or has an idea as to how I can eliminate this ..thanks Mae
Answer:
Cat urine – strong smell
Cat's urine is usually not strong smelling if they are altered (neutered or spayed). Reasons for strong smelling urine are often urinary tract infection which would be easily ascertained by your vet. Very concentrated urine can have a strong odor and this may result from feeding dry food. The other trick is to look for a litter that is odor absorbent. There are a number of good ones available through your pet store. You may try to change the diet and switch to raw food which may have an affect on elimination odors.
©Michael Goldberg DVM
Michael Goldberg DVM
Hudson Place Veterinary Clinic
1300 West 73 Ave.
Vancouver, B.C. V6P 3E7
604-266-2731
Click here to see the entire Bulletin board thread.
Calendar of Events
July 19 & 20 Flyball NAFA Sanctioned Trial Instant Replay
Kitchener, Ontario
905-701-5302
July 25, 26 & 27 Obedience Trial Limestone City Obedience & Kennel Club
Kingston, Ontario
416-759-8593
If you have any pet related events (e.g., pets shows, pet craft shows, etc.), please forward them to us for inclusion in the next edition of our newsletter. There is no charge for this service.
Simply send us an e-mail to events@pets.ca
Pets411: National Pet Service Directory
Pets.ca offers free searching of over 10,000 CANADIAN listings broken down into 15 provider categories.
Our newest Top Links include:
British Columbia
Quebec
Ontario
To have your business listed in the National Pet Service Directory, click here.
In the News
WINNIPEG – The owner of a kennel is being praised for his heroic actions in saving dozens of dogs and cats from a fire Monday morning at Santana Kennels, just west of Winnipeg.
Not everybody will get a new home on Quebec's July 1 annual moving day.
Tips to keep them safe and sane Conditioning, medication useful
More articles from Canada and around the world are available here.
PetsLetter
The Pets.ca Newsletter is published 12 times per year. Subscription through the Internet is free, regular mail subscription rate is $29.95 per year. You have been sent this newsletter because you or someone at this e-mail address requested it. You can easily unsubscribe from this newsletter by going to http://www.pets.ca/index-newsletter.htm and clicking on unsubscribe. You can also send us an e-mail at newsletter@pets.ca with the word unsubscribe in the subject field.
We apologize if you receive multiple copies of this newsletter. We are working to ensure that multiple copies are no longer sent. Please e-mail us if you have received more than one copy of this newsletter.
For information including advertising opportunities and process details, please;
Visit our Website (http://www.pets.ca/index-newsletter.htm) or
Contact Marko at 514-999-0202 (marko@pets.ca)