Welcome to our third issue of the pets.ca newsletter. As with previous issues, we welcome your feedback and your suggestions. We want to know what interests you, and how you feel about all things pet related. Please send your comments and/or suggestions to newsletter@pets.ca
Thanks again for signing up,
Marko Kulik – Webmaster
Dave Kurzman – Webmaster
Inside This Issue
Dogs and Chocolate
Pet of the Month
Kids and Dogs Safety Tip Sheet
Breeder Listings
Featured Products
Classified Ads
Ask the Expert
Calendar of Events
Pets411 Listings
In The News
The Fine Print
Dogs and Chocolates
by David the Dogman
Chocolate made for human consumption can cause death in dogs. Dogs are sensitive to a class of chemicals called methylxanthines. Caffeine and theobtomine are members of that family. Dogs simply cannot metabolize and excrete methylxanthines as efficiently as humans. The half life of those compounds in the human body is in the order of 2 to 3 hours, in the dog it is more like 18 hours.
In a dog the compounds are taken up by the liver and transmitted via the bile into the intestine. They are then converted back into the original methylxanthines for another circuit through the animal. This repeats itself a number of times and instead of getting rid of the substances the dog keeps repoisoning itself-
There are many formulations of chocolate with varying amounts of caffeine and theobromine. The lethal dose of sweet milk chocolate for a dog is 2 oz per kilogram of bodyweight. For a 5 kilogram dog this would be about 280 grams. A lethal dose of milk chocolate for a 25 kilogram would be about 1.4 kilograms.
Dark chocolate is at least 10 times as lethal. A 25 kilograms dog could die from the methylxanthines in 5 ounces.
Symptoms include vomiting, hyperactivity, restlessness, hypersensitivity to touch ( a dog will jump when touched very rapid heartbeat and rapid breathing rate. A loss of control of leg muscles, muscle tremor seizures, general weakness, coma and finally death follow.
In my humble opinion it would be a tragic mistake to encourage a dog to develop a taste for chocolate. A small dog left alone in a house with a box of chocolates might well follow his nose to the goodies and commit suicide by poisoning.
Commitment, Firmness, but kindness.
Comments and additional discussion of this article is available on our website. Just click here to go directly to our forum.
Pet of the Month (March) Meet Timmy
Name: Timmy
City: Mississauga
Province/State Ontario, Canada
Type/Breed: Brown Tabby
Date Of Birth: October 14th 2001
Sex: Male
Coat Colour: Brown
Can bear children: No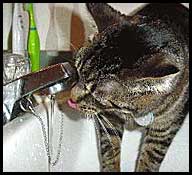 Click here to view Timmy's Page
Would you like to have a Free webpage for your pet?
Maybe your pet will be displayed in Next Month's Issue.
Kids and Dogs Safety Tip Sheet
by Sheila Blythe-Saucier
Teaching children the do's and don'ts regarding animals is among one of the most important lessons you'll ever teach them. Animals are everywhere and though many are domesticated, this does not automatically make them safe. For example, in the U.S. alone, 1-2 million dog bites occur annually.
Today many homes are raising children along with the family dog. Naturally kids delight in hugging, petting, and playing with their pets. But unfortunately, many children grow up believing that all dogs are gentle and friendly like their pets, and commonly fall victim to a dog attack, simply because they'd never been taught when it's not okay to approach a dog.
Start teaching your children the following safety guidelines regarding dogs when they are quite young, and continue reinforcing these precautions frequently.
Never run up to a dog.
Never attempt to touch a neighbor's dog through a fence.
Never touch a dog that is growling, showing his teeth, or barking hysterically.
Young children must never approach dogs without a grown-up's supervision.
Always hold your hand out first and allow the dog to sniff your hand.
Never grab at a dog.
Don't approach a dog that is a watch dog protecting his property.
Never attempt to touch a dog that is eating or in possession of a bone or a treat of some sort.
Never hurt the animal by pulling it's tail or fur for example.
If the dog is leashed, ask the dog's owner permission to pet the dog first.
Keep your face away from the dog's, when approaching or playing with them.
Don't make loud noises or sudden moves when approaching a dog. Speak softly to it.
If a dog is chasing you, stop running, as this encourages him to chase you.
Avoid eye contact with an aggressive dog, and back off slowly and non-threateningly.
Do not touch, or attempt to touch, the animal's eyes.
Comments and additional discussion of this article is available on our website. Just click here to go directly to our forum.
Can't decide what dog is best for your family?
The Breeder Listings will give you the information you need.
Pets.ca has profiles of over 150 different dog and cat breeds that include the names of breeders in Canada
Our newest breeders include
For just a small fee, you can have your breeder information listed here and on pets.ca.
CLICK HERE for more information.
March's Featured Products
This exquisite steel and virtually indestructible ID Tag features a picture of a RED CROSS in the middle of it.
Your pet will look sharp wearing one of these custom engraved unique tags.
Our price: $12.99 (Canadian)

In case of emergency, these highly reflective decals can save your pet from tragedy by alerting rescuers of their presence..
Our price: 4.95 (Canadian)
for a package of 2 stickers.

The first convenient travel bowl to hold both food and water in one. Add food to the bottom and zip, then add the water to the top and tighten the drawstring. Now your dog is ready for food and water anywhere.
Our price: $13.95 (Canadian)
Our bowl is custom designed for dogs and is hand washable with sewn-in super strong bound seams.
Classified Ads
Dog Trainers wanted to teach Group Obedience Classes throughout Canada. Animal Behavior and Training Associates is a nationwide company with locations in 45 states and 5 Canadian provinces.
Please call 1-800-504-6105 for more information.
Kilokas pet aid products and services. Pet first aid courses/products. Next course March 30, 2003 in Montreal. For more information, Call Chantale 514-830-2387.
Need a Speech Fast? Need To Say a Few Words?
For speeches and toasts that will spellbind your audience and leave them asking for more go to http://www.occasionalwords.com/speeches/business.php3
Dog house for sale. Hand made from maple. Intricate woodworked design. 8×8 feet. $250.00 Contact michaeldristenton@yahoo.com
To include your classified ad here, simply send us a copy of your ad to newsletter@pets.ca. The cost for your ad is $16.95 for up to 20 words of text (additional words charged at .50/wd). Your ad will be sent out to our full membership registry as well as all future newsletter subscribers.
Regular cat food for older cats – Answered by Dr. Slome
Hi Pets.ca,
I just noticed on my cat food bag, (A HIGH END PREMIUM BRAND) that this food is recommended for cats up to 6 years of age.
My cats are now 10. Is there a problem with feeding this food to older cats?
Answer:
This will certainly not be of any great danger to senior cats, however we do prefer that the formula to include is slightly lower protein, phosphorus and calories is fed to help reduce the aging of the kidneys and preventing obesity as cats become more sedentary in the later lives.
Your Premium food does have a senior diet which I would consider switching to.
Alternatively ask your Veterinarian which diet is best suited to your cats aging medical needs as there may be specific conditions that your cats have that I may not be aware of.
Martin Slome DVM
Centre Street Animal Hospital
7700 Bathurst Street Units, 40-42
Thornhill
Ontario
L4J 7Y3
Tel. (905) 771-9855
Comments and additional discussion of this article is available on our website. Just click here to go directly to our forum.
Calendar of Events
Field Trials for Retrievers & Irish Water Spaniels
March 2003 – 29,30 VICTORIA
Vancouver Island Retriever Club. George D Reynolds 1298 Holloway St Victoria, BC, V8P 1M7 (250) 382-1064 virqacon@hotmail.com
If you have any pet related events (e.g., pets shows, pet craft shows, etc.), please forward them to us for inclusion in the next edition of our newsletter. There is no charge for this service.
Simply send us an e-mail to events@pets.ca
Pets411: National Pet Service Directory
Pets.ca offers free searching of over 10,000 CANADIAN listings broken down into 15 provider categories.
Our newest Top Links include:
To have your business listed in the National Pet Service Directory, click here.
In the News
A Prince Edward Island woman has died in a house fire, after going back into her burning home to try to save her cats.
Unruly dogs are terrorizing a Pritchard neighbourhood and stealing the simple pleasure of an evening stroll.
The University of British Columbia school of medicine will no longer use live animals in its teaching curriculum. It was one of the last universities in Canada to use live animals to train doctors. Dean of Medicine John Cairns confirmed Thursday that when classes begin in September, none will include the use of any live animals
More articles from Canada and around the world are available here.
PetsLetter
The Pets.ca Newsletter is published 12 times per year. Subscription through the Internet is free, regular mail subscription rate is $29.95 per year. You have been sent this newsletter because you or someone at this e-mail address requested it. You can easily unsubscribe from this newsletter by going to http://www.pets.ca/index-newsletter.htm and clicking on unsubscribe. You can also send us an e-mail at newsletter@pets.ca with the word unsubscribe in the subject field.
We apologize if you receive multiple copies of this newsletter. We are working to ensure that multiple copies are no longer sent. Please e-mail us if you have received more than one copy of this newsletter.
For information including advertising opportunities and process details, please;
Visit our Website (http://www.pets.ca/index-newsletter.htm) or
Contact Marko at 514-999-0202 (marko@pets.ca)