Welcome to our second issue of the pets.ca newsletter. The first issue received a warm reception which yielded many good comments and suggestions. One of the things many of you mentioned was that you wanted to see more information about cats. In this issue we have included more cat information which we hope you will find useful. As with our first issue, we welcome your feedback and your suggestions. We want to know what interests you, and how you feel about all things pet related. Please send your comments and/or suggestions to newsletter@pets.ca
Thanks again for signing up,
Happy Holidays!
Marko Kulik – Webmaster
Dave Kurzman – Webmaster
Inside This Issue
Clicker Training
Pet of the Month
4 Cat Questions Answered
Breeder Listings
Featured Products
Classified Ads
Reading your Cat's Body Language
Calendar of Events
Pets411 Listings
In The News
Jobs at pets.ca
BRRR! It's Cold Outside!
The Fine Print
Clicker Training for dogs
by David the Dogman
Ever since dogs and modern people have lived together, the primary means of controlling dog behaviour has been with a collar, leash and the strength of the trainer's hand. Most pet dog owners do not have the strength and skill required.
Over the past 12 years a new form of dog training has developed based on the system used by Karen Proyer, pioneer marine mammal trainer now known as the "Clicker" which is used for dolphin and whales. The training of dolphins is based on a positive reinforcement-primarily a bucket of fish.
Pryor's experiences planted seeds in the minds of many trainers and behaviourists who thought if marine mammal trainers can control 600-pound sea lions without shouting and force then why cannot we adopt a similar technique with dog training?
Marine mammal trainers use whistles and clickers since they are aware that before they can even say the word "Good" the mammal has swam 30 feet in the air. As soon as a mammal reaches the highest part of a jump he will know that unless he hears a click he will get no fish. The mammal now learns that a wanted behaviour he gets a click and a food reward, no click then he does not receive any reward.
Over the past few years I have often mentioned that the more we talk to our pets in training the less they understand. I have also urged owners to never punish or correct a dog unless they are able to give a positive reinforcement of either a kind voice or a treat of some kind, like a liver treat.
Most pet dog owners do not have the strength and skill required to properly control a dog's behaviour.
It is important to try and shorten praise words to one word like "Good" rather than "Now that's a clever boy". A good behaviour equals "Click and treat". If any dog knows you have a treat, he will sit. When he does, click and give him/her a treat. The dog might get up. As he does, say "Up", then click and and give him/her a treat. If he lays down, just as s/he does, say "Down" and then click and give him/her treat. When the dog comes to you, say "Come", click, and give him/her a treat.
You will be amazed at how quick the dog will understand simple one-word commands that are followed by the click and treat. Remember he only gets the click when he does the required command.
Clickers are now all the rage in the USA and are now getting started in the UK.
Commitment, Firmness, but kindness.
Comments and additional discussion of this article is available on our website. Just click here to go directly to our forum.
Pet of the Month (Dec) Meet Jack
Name: Jack
City: Toronto
Province/State, Country: B.C., Canada
Type/Breed: German Shepherd Dog
Date Of Birth: June 27 1997
Sex: Female
Weight: 110 lbs
Height:29 inches
Coat Colour: Black and Tan
Eye Colour: Brown
Can bear children: Yes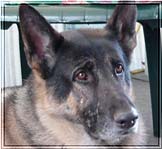 Click here to view Jack's Page
Would you like to have a Free webpage for your pet?
Maybe your pet will be displayed in Next Month's Issue.
The Cat Lady Answers 4 Questions
by Iris Townsend (The Cat Lady)
Why do get cats get in such funny positions?
A cat's body is very fluid because their skeleton is flexible and light and their bones are strong. Cats have 500 muscles. With this structure and support a cat can move both halves of their body in opposing directions.
Why does my cat knead?
A cat will often knead against a favorite spot when she is content. This is a throwback to kittenhood, when kittens knead against their Mother to stimulate the flow of milk.
Why does my cat need shots?
Shots are an absolute necessary precautionary measure for the health of your cat. Shots immunize cats against lethal viruses and diseases.
Why does my cat hide when company comes?
Indoor cats are exposed to visitors and strangers more than indoor-outdoor cats, and usually handle people a bit better. Some shy cats still run and hide, but most are right there to investigate the newcomer.
Comments and additional discussion of this article is available on our website. Just click here to go directly to our forum.
Can't decide what dog is best for your family?
The Breeder Listings will give you the information you need.
Pets.ca has profiles of over 150 different dog and cat breeds that include the names of breeders in Canada
Our newest breeders include
For just a small fee, you can have your breeder information listed here and on pets.ca.
CLICK HERE for more information.
December's Featured Products

This exquisite steel and virtually indestructible ID Tag features a picture of a ribbon with the embossed words #1 Dog in the middle of it.

This exquisite steel and virtually indestructible ID Tag features a picture of a Fish Bone in the middle of it.
Your pet will look sharp wearing one of these custom engraved unique tags. Our price: $12.99 (Canadian)
A perfect Christmas gift for your dog or cat.
These pellets are helpful in treating noninflammatory arthritis, stiffness in spinal joints, loss of muscle mass, osteoporosis and hip dysplasia in patients.
Our price: $11.95 (Canadian) for 80 PELLETS
Dogs and cats with arthritis and joint problems will appreciate the relief they can gain from using this non-toxic product.
Check out our growing line of homeopathic products for pets.
Classified Ads
Holiday Party Coming Up? Need To Say a Few Words?
The holiday parties are just around the corner. As usual, everyone will expect you to say a few words. For speeches and toasts that will spellbind your audience and leave them asking for more go to http://www.occasionalwords.com/speeches/business.php3
DOG WALKER – My name is Lorne and I am a huge dog lover and I'm great with animals. I will walk your dog in the Montreal area and give it the exercise and company it needs while you are away at work. Very reasonable rates. I have a car. Email me at toast@sympatico.ca for more details.
To include your classified ad here, simply send us a copy of your ad to newsletter@pets.ca. The cost for your ad is $14.95 for up to 25 words of text (including URL). You ad will be sent out to our full membership registry as well as all future newsletter subscribers.
Reading Your Cat's Body Language
Body language is not just restricted to a cat's tail. From the way your cat stands to the shape of his ears, your cat is saying something.
Your cat's legs were not made just for walking around .A bend in the forelegs means the cat would rather avoid a fight, but will defend himself if the need arises. When your cat expands his body, fluffing up, he is showing both confidence and aggression. If the cat's legs are fullystretched , he is self-assured and prepared to attack. A bend in the hind legs, however, shows indecision or even timidity. When a cat shrinks his body size, legs tucked underneath, he is showing submission, as well as readiness for action.
A cat's ears do more than just hear; the ears can talk, as well.
When the ears are back and the posture is steady, the cat is unsure of what move to make, considering his options. If the ears are back and the body is low to the ground, this is a display of shame or remorse. The cat's pricked ears show his interest in what's going on around him. When a cat raises his head, this is a display of dominance. If the head is lowered, that means submissiveness or even a feeling of inferiority. When the head is completely tucked in, your cat is probably bored. If he's sneaking around low to the ground at a crawl, he is going after something, stalking his "victim." Be aware that the cat will soon launch a full-speed assault.
From the Editors of The Daily Cat
Comments and additional discussion of this article is available on our website. Just click here to go directly to our forum.
Calendar of Events
If you have any pet related events (e.g., pets shows, pet craft shows, etc.), please forward them to us for inclusion in the next edition of our newsletter. There is no charge for this service.
Simply send us an e-mail to events@pets.ca
Pets411: National Pet Service Directory
Pets.ca offers free searching of over 10,000 CANADIAN listings broken down into 15 provider categories.
Our newest Top Links include:
To have your business listed in the National Pet Service Directory, click here.
In the News
People will soon be able to bring their vaccinated pets from the USA and Canada to the UK. It will mean they no longer have to place their cats or dogs into six months quarantine to make sure they are disease-free.
MONTREAL, QC, Nov. 18 – "Animals for Young Street People" is celebrating its third year with accolades from the Quebec Ministry of Education and the University of Montreal veterinary faculty. Through this project, volunteer veterinarians and students care for young street people's sick animals by organizing monthly evening clinics at Dans la rue's day centre.
Companion Air, a Florida-based airline that provides pet-friendly travel, hopes to be flying soon. The sky is now the limit for people who love their pets. Beginning early next year, a new pet-friendly airline will be flying into Vancouver International Airport. Called Companion Air, it will specialize in making air travel a lot more comfortable for that much-loved pooch, parakeet or Persian.
More articles from Canada and around the world are available here.
Jobs at Pets.ca
Pets.ca is expanding and we are currently looking for experienced salespersons. We offer one of the highest commissions packages in Canada, and the ability to work from your own home. For more information please send an email to jobs@pets.ca
BRRR! It's Cold Outside!
TORONTO, Dec. 3 /CNW/ – Cold temperatures and wind chill not only affect you, but they also affect your pets. When you are bundling up for the winter, remember that your pet will need some extra care:
Cold temperatures combined with dampness and wind chill is a deadly mix that can lead to frostbite and/or hypothermia. Even a dog that spends extended periods of time outdoors cannot protect himself from the extreme cold and biting wind and should be taken indoors. Frostbite occurs when the fluids in tissues freeze, most frequently on the tips of ears, the paws or pads and the flank or under belly. Hypothermia occurs when the animal's body temperature drops significantly below normal. This low body temperature causes the body's immune systems to shut down and eventually causes death. If either of these situations occur, your pet must be taken to a veterinarian immediately.
If it's too cold for you, it's too cold for your pet.
After trips outside, check your dog's feet for clumps of ice between the pads. Sharp ice can cut the pads of paws and increase the danger of frostbite. Also, clean the paws to remove any salt that can irritate your pet's paws. If your pet has to lick her feet clean, the chemicals in the salt will make her sick.
Antifreeze is a deadly poison, but your pet doesn't know that. The sweet taste and smell of antifreeze could lure your pet into a death trap. Make sure you tighten the lids on all your chemicals and keep them away from pets.
Cats looking for shelter in the winter might crawl up into your vehicle's warm engine. They can get caught in the fan and can be seriously injured when you start your engine. Honk the horn, open the hood of your car, or bang loudly on the hood before starting your car to frighten away any animals sleeping there.
This winter, please remember, if it's too cold for you outside, it's too cold for your pet.
Source: TORONTO HUMANE SOCIETY
Comments and additional discussion of this article is available on our website. Just click here to go directly to our forum.
PetsLetter
The Pets.ca Newsletter is published 12 times per year. Subscription through the Internet is free, regular mail subscription rate is $29.95 per year. You have been sent this newsletter because you or someone at this e-mail address requested it. You can easily unsubscribe from this newsletter by going to http://www.pets.ca/index-newsletter.htm and clicking on unsubscribe. You can also send us an e-mail at newsletter@pets.ca with the word unsubscribe in the subject field.
We apologize if you receive multiple copies of this newsletter. We are working to ensure that multiple copies are no longer sent. Please e-mail us if you have received more than one copy of this newsletter.
For information including advertising opportunities and process details, please;
Visit our Website (http://www.pets.ca/index-newsletter.htm) or
Contact Marko at 514-999-0202 (marko@pets.ca)