Welcome to the first issue of pets.ca's newsletter and thanks to everyone who signed up. You will receive your free newsletter once a month. The newsletters will include topics of interest, useful articles, product reviews, health questions and more. .As this is our first issue we welcome your feedback and your suggestions. We want to know what interests you, and how you feel about all things pet related.
Please send your comments and/or suggestions to newsletter@pets.ca
Thanks again for signing up,
Marko Kulik – Webmaster
Dave Kurzman – Webmaster
Inside This Issue
Buying a new puppy
Pet of the Month
Checklist for choosing a puppy
Breeder Listings
Featured Products
Classified Ads
Ask the Vet
Calendar of Events
Pets411 Listings
In The News
Jobs at pets.ca
The Fine Print
Buying A New Puppy
by Dave Gross (APDT) (BIPDT) (FBDR)
So It's Time To Buy A Dog!
After listening to your kids beg for a puppy for years, you're finally ready to give in and buy a dog.
Before you take this big step though, stop to consider a few facts that should influence your decision.
After all, you are about to enter into a 10+ year commitment, and you want to make sure you're prepared… Don't You?
A dog is not an object to be discarded when it no longer is of use or fits into your way of life.
First, consider your impulse to begin with a puppy. Puppies are undeniably adorable and appealing, but they need lots of exercise, training, and supervision. Depending on your work schedule and the ages of your children, do you really have time to handle a rambunctious pup?
Puppies demand your constant attention for most of their waking hours! Many dogs given up to animal shelters are less than a year old, brought in by people who underestimated the energy of their puppy and the time required to help him grow up properly.
Many people mistakenly assume they can mold a puppy to be exactly what they're looking for in a dog.
This doesn't hold true for dogs any more than it does for kids! Pups are born with innate personalities which manifest themselves as the dog grows up. By starting with a slightly older dog, you will have some idea in advance of your dog's personality and preferences. If your main concern is to have a family dog that will be safe with your children, for example, you can search for a dog whose personality already shows those traits. Most animal shelters and rescue groups evaluate their dogs for key temperament issues and can readily assist you in finding a dog that will suit your lifestyle.
Another factor to consider in choosing a dog is breed, or lack thereof. Dog breeds are well defined and easily recognized, and indeed many people associate a working "dog" with a smart Golden Retriever or German Shepherd. In doing so, you miss out on a world of lovable animals who would be glad to devote themselves to your family!
Mixed-breed dogs can be every bit as loyal, loving, and playful as pedigrees, with one distinct advantage over their purebred cousins: they tend to live longer, healthier lives. Many breeds have been so closely bred to produce champion bloodlines that certain health and temperament problems are becoming more and more common. For example, the incidence of hip dysplasia in Golden Retrievers and German Shepherds is above 75%! Health problems associated with genetic inbreeding are practically unheard of in mixed breed dogs. Generally, by choosing a mixed breed, you will avoid most hereditary health problems and gain a hardy, robust companion.
If your family has nevertheless decided on a purebred puppy, the last factor to consider is where to buy your dog. The only safe place to acquire a purebred puppy is from a breeder, where you can visit and meet the parents (canine and human) of your new pup. Mother dogs pass many of their personality traits on to their puppies, so meeting and liking the mother helps ensure you'll get a puppy you can live with. Seeing firsthand the environment your pup grew up in will also help you avoid the inbreeding and ill health associated with dogs from breeding farms, or "puppy farms".
If the puppies and their living space aren't clean, find another breeder!
By all means, before you go out and spend hundreds of pounds on a purebred puppy, stop by your local animal shelter to see the dogs available for adoption. In addition to a devoted, lifelong family friend, by choosing a puppy – or, better yet, an adolescent or adult dog – from a shelter, you get an even greater reward.
You save a life!
Pet of the Month (Nov)
Meet Sheeba
Name: Sheeba
City: Toronto
Province/State, Country: ON, Canada
Type/Breed: DSH
Date Of Birth: Unknown — sometime in 2001
Sex: Female
Weight: 7.8 lbs
Coat Colour: Torti
Eye Colour: Yellow
Can bear children: No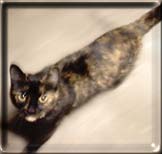 Click here to view Sheeba's Page

Would you like to have a Free webpage for your pet?
Maybe your pet will be displayed in Next Month's Issue.
Checklist for Choosing a Puppy
Are the pups clean and healthy?
Are they friendly and attracted to people? Do they beg to be picked up and do they enjoy being held? Beware the timid pup – they can become fear biters.
Is the mother friendly and attractive? By the time the pups are 6 weeks old, the mother should not be aggressive or protective. If the father is present, is he willing to make friends with visitors? DON'T buy a pup whose parents do not have good temperaments. TEMPERAMENT IS HEREDITARY!
Have the pups been checked for worms and will they receive at least one injection before you take yours home?
Are the pups old enough to leave the litter? Pups should NEVER EVER be taken from the litter before Six weeks of age. They need to interact with their littermates for at least that long. Seven weeks would be even better. On the other hand, a pup that is kept with its littermates past the age of 10 weeks may have become "dog dependent". Be sure the breeder has given the pups individual attention and training.
Is the paperwork in order? You should receive a contract (signed by both buyer and seller), and a Pedigree. Most responsible breeders sell their pet pups on spay/neuter contracts, which means you will receive the registration application AFTER your dog has been spayed or neutered. That should be explained in the contract. You should not have to pay extra for the pedigree.
Have the pups been hearing tested? Deafness is not uncommon in Dalmatians for example. It can be detected at an early age, and affected pups should be humanely destroyed. A responsible breeder never sells or gives away a deaf pup!
Have the parents been X-rayed for hip dysplasia? Is the breeder aware of the genetic problems in the breed and is he breeding for sound healthy dogs with stable temperaments?
Will you receive a supply of food, instructions about the care and feeding, a list of necessary supplies and health record? Does the breeder supply dog care books, as well as information about vets and training schools?
Is the breeder experienced? Will he be able to answer your questions or help with any problems that arise? That's one of the biggest disadvantages in buying a pet shop or commercially raised pup – no one cares whether or not you're having trouble, they only want your money.
Did the breeder insist that you take the dog through obedience training? Responsible breeders make that a requirement for sale. All dogs should take a basic obedience class.
Were you told the good and bad features of the breed? All breeds have their drawbacks, and they should have been explained to you. Beware the hard sell!
Did the breeder talk to you about dog crates, explain how to use them and stress how helpful they are?
Do you feel like you are adopting a child?? You should! Buying a pup is a serious responsibility.
Are you willing to make a commitment to providing care and love for the life of this dog? If the answer is no – then you should reconsider your desire to purchase a puppy.
Take your time and find the right breeder and the right pup!
If you can't answer "yes" to the above questions, perhaps you should look elsewhere for your pup.
By Dave Gross (APDT) (BIPDT) (FBDR)
Can't decide what dog is best for your family?
Breeder Listings will give you the info. you need.
Pets.ca has profiles of over 150 different dog and cat breeds that include the names of breeders in Canada
Our Newest Breeders Include
For just a small fee, you can have your breeder information listed here and on pets.ca. CLICK HERE for more information.
November's Featured (early Christmas) Products

This exquisite steel and virtually indestructible ID Tag features a picture of a ribbon with the embossed words #1 Dog in the middle of it.
Your pet will look sharp wearing one of these unique tags.
Our price: $12.99
A perfect early Christmas gift for your dog or cat
The hemp mouse has been tested on animals and the good news is they love it!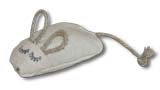 Our price: $9.95
Cats will sniff right through the gift wrapping when you put it under your tree!!
Coming soon: a full line of homeopathic products for pets.
Classified Ads
Thanksgiving Toasts that will make you Friends Smile and your Family Proud
It's the day before Thanksgiving, and the phone rings. It's your mother, your brother, or your uncle Fred: Will you please say a few words tomorrow? I know you'll be great. You calmly reply, of course, I'd love to. You have a million things to do and you hate writing speeches. You need a speech that's personal, witty, and sincere. For Thanksgiving Toasts that will make your friends smile and your proud and go to http://www.occasionalwords.com
Dog Cage for sale. Toronto Region. Suitable for large dog. 125$ or best offer. Contact me at daveman0@hotmail.com
DOG WALKER – My name is Lorne and I am a huge dog lover and I'm great with animals. I Will walk your dog in the Montreal area and give it the exercise and company it needs while you are away at work. Very reasonable rates. I have a car. Email me at toast@sympatico.ca for more details.
Dog house for sale. Barely used. $100.00 for more info contact pinalongo@hotmail.com
To include your classified ad here, simply send us a copy of your ad to newsletter@pets.ca. The cost for your ad is $14.95 for up to 25 words of text (including URL). You ad will be sent out to our full membership registry as well as all future newsletter subscribers.
Ask The Vet
What is canine cough? What are the symptoms? Can any natural products cure it and can it be contracted to humans?
Asked by Harland
Canine Cough
What is a cough?
A cough is a defense response of the respiratory system when irritated. All animals possessing a pulmonary system have the ability to react, thus an irritated larynx, trachea or lungs can provoke a cough in dogs. The cause of irritation can come from external stimuli such as pollutants, bacteria and virus in the air. Systemic reactions are also possible and these could involve allergens, presence of tumors or circulatory problems. As you can see a cough can be more than just "a cough".
Kennel cough disease is not transmitted to humans but is highly contagious to dogs.
Just in case Harland meant, "kennel cough" when asking about canine cough…. here's some extra information.
Kennel Cough
Kennel cough or infectious tracheobronchitis is an inflammation of the respiratory system due to the presence of pathogenic virus and bacteria in the air. Transmission is trough direct inhalation of the virus and bacteria shed in the air by a coughing sick dog. Symptoms are a persistent cough that could lead to light tracheitis or a severe pneumonia.
The disease is not transmitted to humans but is highly contagious to dogs.
In standard veterinary medicine, antibiotics are sometimes used to prevent secondary bacterial infections Cough syrups are often also prescribed by the veterinarian.
In selecting useful homeopathic remedies, one should look for complexes that provide relief to the respiratory system and stimulate the immune defenses of the dog. These products could be obtained from various homeopathic companies such as: Boiron, Homeocan, Vetnat, Heel, Reckeweg and others.
Consult your veterinarian or your pharmacist.
Paul Guindon dmv
Clinique veterinaire Salaberry
Medecine conventionnelle et holystique
1895 Salaberry, Montreal, Qc
514-334-7280
Comments and additional discussion of this response is available on our website. Just click here to go directly to our forum.
Calendar of Events
If you have any pet related events (e.g., pets shows, pet craft shows, etc.), please forward them to us for inclusion in the next edition of our newsletter. There is no charge for this service.
Simply send us an e-mail to >events@pets.ca
Pets411: National Pet Service Directory
Pets.ca offers free searching of over 10,000 CANADIAN listings broken down into 15 provider categories.
Our newest Top Links include:
To have your business listed in the National Pet Service Directory, click here.
In the News
KILLEN – At the edge of a winding two-lane road, a small grave lies under trees providing shade against rising summer heat. Howard Killen thought it was a fitting place for his old war comrade. "Old Jeep was a good dog," Killen said. "Probably saved my life a time or two,"
Cats can be cute little bundles of fur, but rub them the wrong way and they can turn into vicious terrors. Cat bites and scratches can inflict deep wounds on fellow felines, which can turn into painful abscesses and large veterinary bills. An antidepressant drug that may turn hisses into purrs is about to undergo a drug trial.
Dogs get the royal treatment at Cookies, a chic St. Denis establishment that serves java with its unusual biscuits – from classic chicken to fancy Parmesan and garlic
More articles from Canada and around the world are available here.
Jobs at Pets.ca
Pets.ca is expanding and we are currently looking for experienced salespersons. We offer one of the highest commissions packages in Canada, and the ability to work from your own home. For more information please send an email to jobs@pets.ca
PetsLetter
The Pets.ca Newsletter is published 12 times per year. Subscription through the Internet is free, regular mail subscription rate is $29.95 per year. You have been sent this newsletter because you or someone at this e-mail address requested it. You can easily unsubscribe from this newsletter by going to http://www.pets.ca/index-newsletter.htm and clicking on unsubscribe. You can also send us an e-mail at newsletter@pets.ca with the word unsubscribe in the subject field.