Featured Pet tip – Drooling cats – kneading cats – Cats that drool and knead
Occasionally adult cats will drool while they are being petted, massaged or while nuzzling into fabrics. This drooling is usually accompanied with the kneading of the cat's paws. This paw kneading action is identical to that performed by nursing kittens and it is this behaviour that the cat is reproducing involuntarily in adulthood. Those adult cats that do drool/knead, often choose sweaters, coats or other clothing reminiscent of their original suckling environments. There, the nursing kittens kneaded their paws on their mothers, to stimulate milk flow from their teats. The anticipation and smell of the milk caused the kitten to salivate and drool.
Even though the reason cats drool and knead is in response to the warmth and good feeling they're getting off of the petter or sweater, some people find that this is a behaviour that they'd like to correct. This is difficult since it is so primal and involuntary. It would be like trying to correct a human being for salivating at a summer barbeque. If the cat drools on you, get or wear older clothing or place a dishtowel on your lap. It would be best in this situation, to keep valuable/cherished clothing items AND/OR the materials that the cat finds 'droolable' locked away safely.
If your cat is not a drooler/kneader as described above, then sudden drooling normally indicates a problem. The problem can range from to a chipped/cracked tooth or gum infection (the more common reasons), to poisoning or a foreign object lodged in the throat. Try gently checking your cat's mouth and look to see if you can spot the problem. Maybe there is a splinter or foreign object you can see and easily remove it without hurting the animal. If not, then it's time to visit the vet and diagnose the severity of the condition.
© Pets.ca 2004 – See more pet tips by clicking here
Pet of the Month – Master Yoda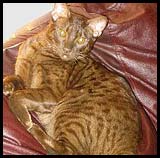 Name: Master Yoda
City: Kemptville
Province/State, Country: Ontario, Canada
Type/Breed: Ocicat
Date Of Birth: June 2003
Sex: Male
Coat Colour: Chocolate
Eye Colour: Yellow
Can bear children: No
(Sponsored article)
Most would agree that urine stains (human or pet) can be a cleaning challenge – often leaving visual and olfactory traces for years, even after repeated applications of multiple cleaning products.
The secret to permanently removing stains and odors is in the approach to remove the non-soluble uric acid salt crystals that produce urine's pungent aroma. Traditional products typically clean the urea (the sticky substance in urine) and urochrome (which makes urine yellow) with detergents and masking agents, but leave the uric acid crystals firmly bonded to the surface of the stained area. Every time water, humidity or more urine reactivates the remaining crystals, the odor returns.
After more than two years of research and development in their laboratories in Sarasota, Florida, Bio-Pro Research appears to have finally been able to solve this smelly puzzle. The secret to their success is in their identification and isolation of the naturally occurring bio-enzymes that digest the uric acid crystals completely as well as remove the urea and urochrome. What would they call this miracle product, you ask. What else, but Urine-Off found online at the website with the same telling-name, www.urine-off.com! Extensive commercial and consumer testing have demonstrated that Urine-Off's formula attacks only the offending substances without harming the fabric, floor covering or other hard or soft surface. It is non-toxic, non-pathogenic and biodegradable for safe use in any environment.
The product works on any type of urine stain, even those that are highly concentrated or old, including cat urine. The scent is removed so completely that professional pet trainers use Urine-Off™ to remove residual urine odors that can contribute to undesirable territory-marking behavior, making Urine-Off an incredibly effective tool for house training.
Perhaps the biggest testament to their success in solving the urine problem thus far, is that Public Works departments of major urban areas have begun using the product to treat the most troubled areas of their cities. At the heart of London, the City of Westminster is one of Urine-Off's biggest commercial users, treating one of the oldest cities in the world. "Historically, we've had a lot of problems with urination in courtways and back alleys – people just use them as a toilet when they come out of the pub at night," reports Jonathan Riley, the City of Westminster's Senior Street Environmental Manager. "We've flushed the areas with water and used deodorizers on a regular basis, but the trouble is, the deodorizers wear off. By contrast, we're having tremendous success with Urine-Off in eliminating the odor completely. The results have been nothing short of miraculous."
The product is available in a 500-ml spray bottle or a one-gallon jug at www.urine-off.com, or through veterinary and flooring professionals throughout the United States.

Made from a durable synthetic tricot material, these fluorescent bandanas come in bright orange and bright yellow for easy visibility during the day or night. Available in 2 sizes
Your pet will look sharp and you'll feel safer when your pet wears wearing one of these fluorescent bandanas. Our price: $9.45 (Canadian)
Ask the expert – Teaching a dog to 'Drop it'
Question: Okay, my 7 month old toy poodle (neutered male) is a total sweetheart. He has learned a lot of commands, and he's well trained in almost every respect. One aspect of his training that I kind of gave up on is "drop it." When I walk him (I live in an apartment), he often finds food garbage that I don't see in time to steer him away from. When it's something quite large, I used to say "drop it," (but he wouldn't) and then just pry his jaws open and pull it out. Kind of gross and annoying, but no big deal. However, his jaws are a lot stronger now, and prying them open and pulling something out is dangerous as he really really wants to eat that food!!! Yesterday it got rather serious, and he even snarled at me!!! It was really unlike him, as he is a very good natured and loving pet to both of his owners and to all strangers.
Today he found another big chunk of food and I just let him eat it because I didn't want to go through that again! What should I do? Any advice would be GREATLY appreciated!!! Thank you in advance!
Answer:
Teaching 'drop it' and 'take it' is one of the very first things we teach. It is a matter of respect when it comes to dropping things to you on command. He needs to learn that all things belong to you – even if he found them first.
First, put your dog on the leash (for control) then get a stick or stiff toy at least 6 inches long – not a soft toy he can get a grip on or food he can break off and swallow. Start with an object that doesn't have high value to him and work towards an object that does have high value. Food will probably be the toughest challenge as it is easy for him to just swallow it and win.
Offer it to your dog and say 'take it' in a happy tone. let him chew on it for 15 seconds – do not let go of the item. Say 'drop it' short, sharp and firm in tone. Almost startle him with the command as you point quickly at the item and his nose. The startle alone should impress him. If he lets go then praise him and gently stroke his face and head. If he does not let go – ask again and vibrate the item in his mouth moving towards the back of his mouth. This should be strong enough to make him want to let go, but not so strong to hurt him. When he releases be very pleased and praise & pet.
Repeat this – holding the item and sharing it with your dog for longer times each round. As he gives willingly then allow the item to be his for just a few seconds, keeping your hand close by and then move your hand in and ask him to 'drop it'. Again increasing times until it can be his for five minutes and he still drops it nicely to you. Working him in his normal obedience commands just before you do this can help. It places him a submissive role and makes him more agreeable over all and ready to be more cooperative.
Practice a lot when you are just hanging around the house – get him to drop dozens of things throughout the day, don't wait to teach it when you need it and don't avoid teaching good manners like you did today.
This command is serious enough to save his life. What if it were a pill you dropped? or a big chunk of chocolate?
Good luck!
Elizabeth
www.TenderfootTraining.com
Dog Training the Way Nature Intended
More information regarding this topic is available here.
In Vancouver on January 9, 2004, J. Kaufman, a proud pet owner…
Are you comparing pet insurance plans? Or are you having hard time choosing between pet insurance quotes? Read on…
(Sponsored article)
As pet owner who loves his pet very much, and do not have a large budget to face expensive veterinary bills by myself, I decided to look thoroughly into pet insurance. I spent three weeks of time searching on the Internet, reading pet insurance policies, and asking vets for advice. I thought that I should share my findings with other pet owners who are may be over doing it like me.
There are many pet insurance companies that offer pet insurance plans. The more you pay of premiums, the better the pet insurance plan can be! It also gets so complicated to compare between all these pet insurance plans!! Until, I came across this article in one of the North Shore News about a success story of a pet insurance entrepreneur by the name of Darryl Rawlings, now is President of Vetinsurance Ltd. Here is the article. I decided to find out more about his company (Vetinsurance) and I totally was surprised that someone could think about one simple pet insurance plan at an excellent monthly fee. Darryl made my life easy, because I do not need more or less insurance than what his company offers.
My dog is a family member to me and the health care system do not cover him. Same with my family extended medical provided to me on the job! I guess no to many people know the true meaning of family!! Until something is done about this, if you have a dog or cat, I recommend Vetinsurance with all my heart and mind. You can spend less time and money and purchase their pet insurance online with few clicks of your computer mouse. Their website is www.vetinsurance.com.
Fortunately Vetinsurance offers pet insurance in Canada. So far, they do not offer pet insurance in the United States; however, the customer service agent mentioned that they are going to offer pet insurance in the United States too. If you are from the United States, you can submit your name on their website so that they would be able to notify you when they start offering pet insurance in the United States of America.
I will add more links to good pet products and links of interest in the near future. So stay tuned…
I wish you and your pet all the best.
Pet owner
J. Kaufman
In the News
New devices help solve pets' peeves
If you see a chihuahua sporting an itsy-bitsy neck brace or a basset hound wearing a stubby prosthesis, you can bet their owners have visited Jeff Collins
Finding way for friends and Fido to get along
When she used to pick up her daughter from school, she would take Spotski, a Polish Lowland sheepdog, much to the delight of the other children. While on family vacations in Europe, Spotski – who could be a doggie double for storybook Mr. Muggs or Disney's Shaggy D.A. – was made to feel at home in shops, cafes and even restaurants. "He is welcomed everywhere but theatres and the opera," said Drobot, a Toronto writer and self-described proud dog owner. "It's fantastic."
More articles from Canada and around the world are available here.
Upcoming charitable events:
"BIG EVENT!! LOTS OF FUN FOR EVERYONE!
Place? Hudson Community Center, 394 Main Road in Hudson!
Date and time? Saturday, Dec 4 from 11:00a.m. to 4:00p.m.
What's happening? Craft fair, bake sale, multi-rescue adoption event with dogs and cats looking for new homes, get your pet's picture taken with Santa, games to play and much much more!!
Lucky Rescue needs donations of new and nearly-new articles for sale – ALL proceeds go directly to help the animals. No books or clothes please. If you can donate, please call Debbie at (450) 424-0455 for the drop-off location. Hope to see EVERYONE there!!"
PetsLetter
Please support our sponsors – This newsletter and all of the thousands of pages on Pets.ca are brought to you free of charge thanks to our advertisers. We would like to welcome some new advertisers that have recently come aboard. The following advertisers have all been approved because they have quality products that we believe in.
Bow wow cards – Petserene markers and memorials – Ruff rider seat belts for dogs – Tenderfoot dog training – Urine-Off urine remover – Vetinsurance pet insurance
The Pets.ca Newsletter is published Quarterly. Subscription through the Internet is free, regular mail subscription rate is $29.95 per year. You have been sent this newsletter because you or someone at this e-mail address requested it. You can easily unsubscribe from this newsletter by going to http://www.pets.ca/index-newsletter.htm and clicking on unsubscribe. You can also send us an e-mail at newsletter@pets.ca with the word unsubscribe in the subject field. Please note that we have a nospam policy and all newsletters are sent through an opt-in subscription policy.
For any information contained in this newsletter including advertising opportunities and process details, please contact marko@pets.ca or call 514-999-0202
Please Note: Pets.ca provides pet health information on this site as a service to the public. Any diagnosis and/or treatment of specific conditions should always be in consultation with one's own veterinarian. Pets.ca disclaims all warranties and liability related to the veterinary advice and information provided on this site.