Pets.ca – Monthly pet newsletter – August 2008
Dear Petlover,
Hi there it's Marko, one of the owners/administrators on Pets.ca and this is our second newsletter of the of summer 2008. Many thanks to those people that sent emails saying how much they liked our last pet newsletter that we put out back in April. We had been on a newsletter break for quite a while, but we are back and are using a new friendlier more efficient system. We are putting out neswletter either once a month or once every 2 months so you will not get bombarded with emails from us. If you think you know another pet lover that may like our newsletter, please just forward this email to them and ask them to sign up on almost any page on Pets.ca. Now, onto some pet information.
Featured podcast (audio recording)
The summer heat and our pets
Our last podcast (audio recording you can listen to on your computer or MP3 player) discusses hot summer temperatures and how it affects our pets. In the podcast we talk about heat stroke in cats and dogs as well as the real problem of pets getting sunburned, especially on their noses. We also talk about how if our pets are outdoors they need shelter from the sun. On that particular note we talk specifically about the fact that dog-houses are BAD as a shelter from the heat. This is because there is almost no air circulation in a dog house and that many dog houses act more like ovens than shelters from the sun.
You can listen to these recordings easily by clicking the embedded player at the bottom of each particular post. Click here for Dogs – cats and the summer heat.
A podcast is simply audio (similar to a pre-recorded radio program) that you can listen to on your computer or on an mp3 player like an Ipod any time you like. At this time we have recorded 41 shows and many of them are interviews with specialists like the trainers from Tenderfoot Training and with Dr. Lee our amazing podcasting veterinarian.
We realize that some people may still be confused about podcasting so if anyone has questions feel free to email me personally at marko (a T ) pets (D O T) ca – Please use the correct email formatting of course.
Pet Photography
Photography on Pets.ca – There are many places to see cute pet photography on Pets.ca including our Free cat webpages and Free dog webpages. We also have a special forum just for pet photography in our bulletin board, where each month we set up a challenge or theme. It's all fun and it's all free and here are just a few pictures from the June Pets and summer fun and the July Pest and bug patrol challenge. This month's challenge is August – Summer heat and our pets and pics from that challenge will go in next month's newsletter. Thanks to Chase_Mom, CK, Frenchy, jiorji, SolaMio and wdawson, (June challenge – top set) and 14+kitties, Frenchy, jessi76 and Hazelrunpack (July challenge – lower set) for the use of their pics in this newsletter.
June photo challenge – Pets and summer fun
July photo challenge – Pest and bug patrol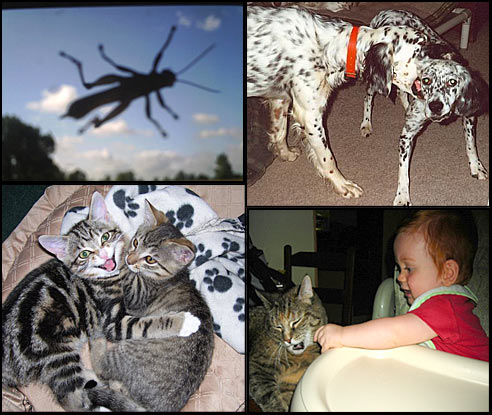 Dogs and Their Noses
A dog's nose is truly a marvel of nature. Many of us mistakenly think that only certain dog breeds like Bloodhounds and German Shepherds have a great sense of smell. Although those breds do indeed have an amazing sense of smell, when we compare any dog breed to humans, we humans always lose in smell contests. It's easy to see why when we take a look at dog-nose anatomy. A dog's nose has about 1,000x more olfactory ('smell') receptors than a human's nose. Our eyesight is better – but dogs have better smellers.
Aside from just how sensitive to smell a dog's nose is there are many other common questions and myths that relate to dog noses. Some of these myths include questions relating to why dogs have wet noses and if dry noses are a bad thing.
If you are interested in these and other facts and myths concerning dog noses, click here for the full pet tip on dog noses.
2 cute gifts for pets and pet lovers
New products for pet lovers have recently been added to our store including a few models of ribbon magnets with proactive messages that make great gifts for pet lovers. Our different models of custom engraved pet identification tags are a crucial way to protect your pet in the event it gets lost. ALL pets, even indoor cats and dogs need to be wearing identification at all times. Cats and dogs are great escape artists and get lost all the time. Good identification is one of the keys to getting them home safely.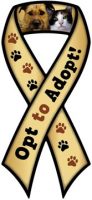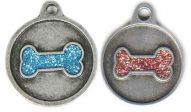 No Spam and suggestions
We love to get feedback and suggestions. That's the best way we can improve and give you the information that you want. Please send any suggestion or feedback to newsletter ( a T) pets.ca. (Please use the correct standard email formatting)
The people that put together this newsletters are pet lovers NOT spammers. At Pets.ca we absolutely hate spam. We hate getting it and we never send it on purpose. If by chance you received this newsletter and did not want it, we apologize. Clicking the unsubscribe link assures that you won't get this newsletter again.
© 2008 – Pets.ca – all rights reserved