Pets.ca – Monthly pet newsletter – April 2009
Dear Petlover,
Hi there it's Marko, one of the owners/administrators on Pets.ca and this is our first spring newsletter of 2009 so Happy Spring; it's been a long cold winter for many of us. We intend to put out only 1 newsletter every month or two so rest assured you will not get bombarded with mailings. If you think you know another pet lover that may like our newsletter, please just forward this email to them and ask them to sign up on almost any page on Pets.ca. Our past newsletters are always located here on Pets.ca but our latest newsletter is only available by subscribing by free subscription in the yellow navbar on almost every Pets.ca page. If you have any comments or suggestions feel free to email them to newsletter ( A T ) pets (Do T) ca (please use the correct formatting) Now, onto some pet info.
Featured podcast (audio recording)
Signs and Myths of Illness in Cats and Dogs

As concerned pet owners we always want the best for our pets and when they are sick we want to help them to feel better. The problem is that many pet owners make basic mistakes when evaluating the health of their pet. The most frequent mistake pet owners make is touching a pet's nose and making a health decision based on that. This is one of those myths that has hung around for way too long. The temperature of your dog's or cat's nose IS NOT A GOOD indicator of their overall health. Listen to the podcast for the full story.
You can listen to these recordings easily by clicking the embedded player at the bottom of each particular post. Click here for the Signs of illness podcast.
A podcast is simply audio (similar to a pre-recorded radio program) that you can listen to on your computer or on an mp3 player like an ipod any time you like. At this time we have recorded 47 shows and many of them are interviews with specialists like the trainers from Tenderfoot Training and Dr. Lee our amazing podcasting veterinarian.
We realize that some people may still be confused about podcasting so if anyone has questions feel free to email me personally at marko (a T ) pets (D O T) ca – Please use the correct email formatting of course.
Advertise to 3,000 petlovers
Thanks to all of the petlovers that have told 2 friends about our newsletter and to everyone that has sent us private messages and emails telling us how much they like the newsletter. This newsletter now goes out to approximately 3,000 subscribers and new subscribers join daily. We want to keep this newsletter in its current format and so we are offering 2 spots for small sized ads; one spot will be at the very top of this newsletter the other spot will be to the right of this text. Please contact us for details if you are interested.
Pet Photography
Photography on Pets.ca – There are many places to see cute pet photography on Pets.ca including our Free cat webpages and Free dog webpages. We also have a special forum just for pet photography in our bulletin board, where each month we set up a challenge or theme. It's all fun and it's all free and here are just a few pictures from the February 2009 Photo Challenge – Best friends and the March 2009 Photo Challenge – Hats. This month's challenge is April 2009 – Pets and food and pics from that challenge will go inour next newsletter. Thanks to ancientgirl, frenchy, wdawson, Joeyjoejoe, Melinda, and spatx, (Feb. 2009 challenge – top set) and Ford Girl, Melinda, hazelrunpack, Marko, CClover and Winston (March 2009 challenge – lower set) for the use of their pics in this newsletter. Please note: There were MANY pix that we did not use even though we wanted to. We only use pictures that members from our pet bulletin board have allowed us to use by posting in this list. Please add your name if you want us to consider your images (it's fun and free).
February 2009 Challenge – Best friends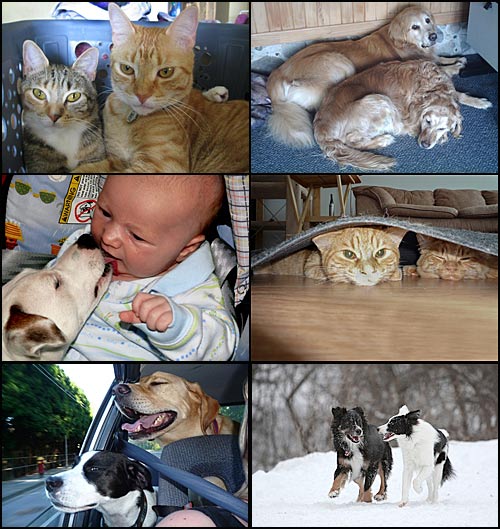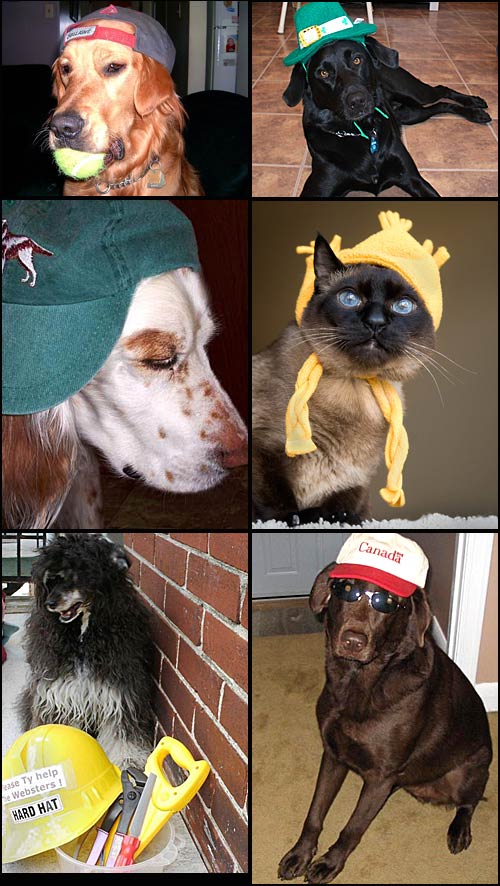 Pet Videos
Pet videos are so cute and so much fun that we have decided to add pet videos to our bulletin board. We've only just started adding a few videos but the ones that we've added are likely to make you smile. One that is incredibly cute is Dogs and polar bears at play. Anyone can see all the videos but in order to comment, you need to be a bulletin board member (it's free).
Puppies that love to chew
Chewing is a natural activity that most puppies like to engage in. It gives them something to do with their surplus of energy and it also relieves the discomfort of teething. The problem with this 100% natural activity is that the objects that puppies choose to chew on are often inappropriate in our human opinions. Shoes, socks and furniture are 3 puppy favourites that are not favoured by their human owners. The question becomes then, how do we get them to chew on appropriate items and what are these appropriate chewing items?
Different puppies like to chew on different objects depending on their breed and size. You can read the full puppies that chew pet tip here.
2 cute gifts for pets and pet lovers
New products for pet lovers have recently been added to our store including our new Chihuahua pet luggage tag. We have also added a new homeopathic product called Ginginat. It helps with pets that suffer from or are prone to gingivitis.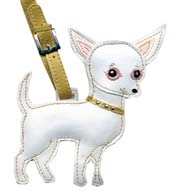 No Spam and suggestions
We love to get feedback and suggestions. That's the best way we can improve and give you the information that you want. Please send any suggestion or feedback to newsletter ( a T) pets.ca. (Please use the correct standard email formatting)
The people that put together this newsletters are pet lovers NOT spammers. At Pets.ca we absolutely hate spam. We hate getting it and we never send it on purpose. If by chance you received this newsletter and did not want it, we apologize. Clicking the unsubscribe link assures that you won't get this newsletter again.
© 2008 – Pets.ca – all rights reserved