Pets.ca – Monthly pet newsletter – April 2008
Hi there it's Marko, one of the owners/administrators on Pets.ca and this is our third newsletter this year. We intend to put out only 1 newsletter a month so rest assured you will not get bombarded with mailings. Many thanks to those people that sent emails saying how much they liked our last pet newsletter. We had been on a newsletter break for quite a while, but we are back and are using a new friendlier more efficient system. If you think you know another pet lover that may like our newsletter, please just forward this email to them and ask them to sign up on almost any page on Pets.ca. Now, onto some pet information.
Featured podcast (audio recording)
Diseases transmitted from dogs to cats and vice versa
There are millions and millions of households that have both cats and dogs as pets and it is important to know that there are diseases than can indeed be transmitted from one species to another. Bite wounds are one of the most common ways that a bacterial 'disease' gets transferred from dogs to cats for example.
In terms of these bite wounds, it is NOT something that pet owners should take care of themselves by using a simple household human ointment. ALL dogs and cats that are bitten need antibiotics from a veterinarian. The first 4 hours are the most crucial so pet owners should NOT wait and try to take care of the problem themselves. They should immediately bring their pets to see a veterinarian or have the name of a 24 hour vet clinic in case it is a holiday or weekend. Feel free to listen to the full Dog to cat diseases – Cat to dog diseases podcast for even more information.
A podcast is simply audio (similar to a pre-recorded radio program) that you can listen to on your computer or on an mp3 player like an Ipod any time you like. At this time we have recorded 37 shows and many of them are interviews with specialists like the trainers from Tenderfoot Training and with Dr. Lee our amazing podcasting veterinarian.
We realize that some people may still be confused about podcasting so if anyone has questions feel free to email me personally at marko (a T ) pets (D O T) ca – Please use the correct email formatting of course.
Pet photography
Photography on Pets.ca – There are many places to see cute pet photography on Pets.ca including our Free cat webpages and Free dog webpages. We also have a special forum just for pet photography in our bulletin board, where each month we set up a challenge or theme. It's all fun and it's all free and here are just a few pictures from the March challenge whose theme was The Ides of March (Doom and destruction pics). Thanks to Hazelrunpack, meg4050 and jessi76 for the use of their pics in this newsletter. This month's challenge is honour of the April fool is Foolish pets – Pets doing foolish things and pics from that challenge will go in next month's newsletter.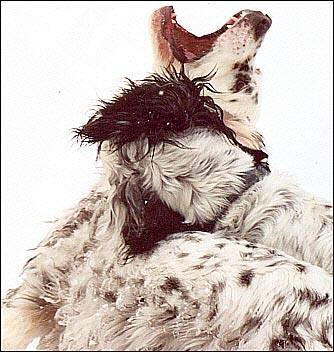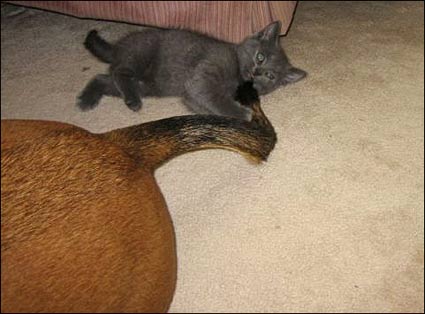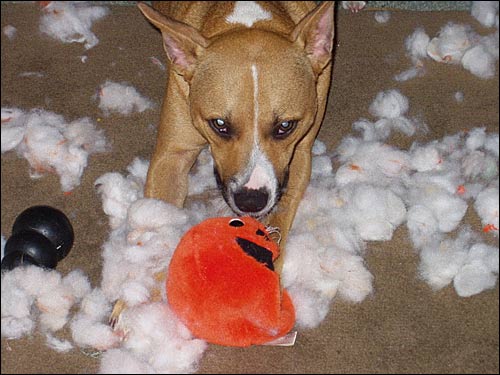 Kissing your pet
Many pet lovers kiss their pets multiple times each day. In fact many pet owners kiss their pets more often than their spouses. On the Pets.ca bulletin board we posted a small poll to see just how many 'Kissaholics' there are out there. Here are the results so which are NOT surprising given just how much Pets.ca bulletin board members love their pets.
On average, how many times do YOU YOURSELF kiss each of your pets each day
Daily…you nuts? Maybe once a year on birthdays
3.51%
1-5 times a week
0%
Once a day
0%
2-3 times a day
14.04%
4-6 times a day
21.05%
7-12 times a day
15.79%
13-20 times a day
7.02%
More than 20 times a day – I just can't stop, I'm a kissaholic and I need a 12 step program
38.60%
The conclusion is that with almost 40% of members kissing their pets 20+ times per day, Pets.ca members REALLY love their pets and are kissing them to to the point of addiction. Vive Le Kiss! You can see the full poll along with comments by members by clicking here. Feel free to register for free and post your own comments as well.
2 cute gifts for pets and pet lovers
Two new products for pet lovers have recently been added to our store. Our pet luggage tags come in 5 models and are an amazingly cute way to pick your bag or luggage out of a crowd. Our new Pet picture frame magnets are a fun way to always have your pet's picture around. They are also perfect to help you remember your grocery list.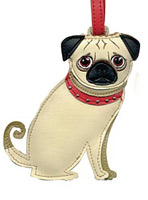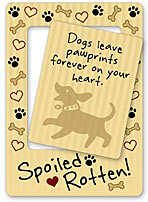 No Spam and suggestions
We love to get feedback and suggestions. That's the best way we can improve and give you the information that you want. Please send any suggestion or feedback to newsletter ( a T) pets.ca. (Please use the correct standard email formatting)
The people that put together this newsletters are pet lovers NOT spammers. At Pets.ca we absolutely hate spam. We hate getting it and we never send it on purpose. If by chance you received this newsletter and did not want it, we apologize. Clicking the unsubscribe link assures that you won't get this newsletter again.
© 2008 – Pets.ca – all rights reserved