I bought a Petco clicker, and Charlee Bear Dog treats (with liver) for training Brandy.
So far so good. The clicker is loud, made of plastic and has a key ring on it, and it was only $1.99 so I bought two. They had another model, not as loud, "fancier" looking for about 4 or 5 dollars, and has an attached wrist coil. I'll probably buy a wrist coil for this one. We have been working with Brandy, she now knows that when she hears the click she gets a treat. I give this product 4 paws




it does it's job, but I don't know the durability yet,but even if it only lasts me a few months, I can't beat the price. I know that i could just use a whistle, or clap my hands, but when she sees me get the clicker off the key rack, she gets into training/learning mode, and I really like that, I have her full attention.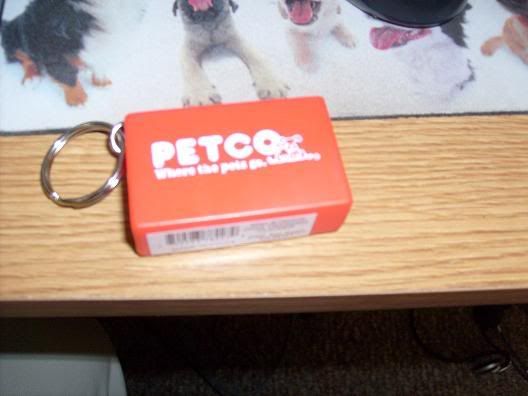 The treats get 3 paws



they are crunchy, but more like gold fish crackers (puffed), which is great because it doesn't take her long to chew, and we can move on. Also each piece only has 3 calories. It was on sale for about 4 dollars and some change, and is a good size bag with alot of pieces. I got the treat, because Bourbon won't do anything for kibble, not even sit/shake. Charlie Bear is also only given to brandy while we train, so I guess it's good to have a training treat instead of just using kibble or a treat she gets for doing nothing but being cute.