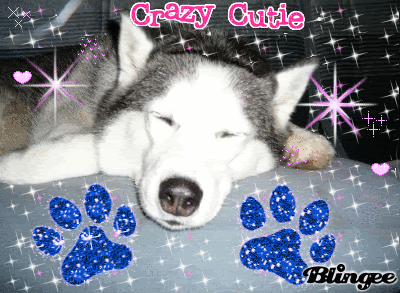 My friend just told me that her husky "Gypsie" is having seizures. I use to have a husky when I was younger and she also had seizures. We put her on medication for a bit, but it made her gain weight and also made her act like she was drunk, walking into walls, stumbling down steps... and she really was not herself anymore so we didn't see the point of her being on it. I told my friend about all of that but I really want to find as much information that I can for her. She is living out in Berkeley, California (where I was a couple years ago) and so she really is in the best area to find many different holistic treatments for Gypsie, but I still wanted to turn to all of you to see if there was anything else I could do to help her in any way. This was her blog on her site:
x. Gypsie Seizure 4 - Blog 1
Current mood: distraught

Gypsie has been having seizures lately. Her first one that we saw was back in March. Then she had another one in April. And another one in early June I think it was.

And then she had another one this morning...

When she had her first seizure I was at work and Aubree found her. I didn't really know what to do. I was in a numb panic. Luckily Aubree was there and knew what to do. She picked Gypsie up and carried her out to my car and I immideately wizzed her off to the VCA clinic down the road.

The vet told me that we could put her on medication, but that it might not be the best option at that point since she had only had one known seizure.

The medicine has to be taken twice daily, and if a single dose is missed it could CAUSE her to have a seizure. Also the medication over the long run damages the liver. ALSO for the first couple weeks after starting the medication Gypsie would be completely lethargic, and not very active at all.

So I opted not to put her on the medicine.

Then she had her 2nd seizure, late at night. I had already gone to bed and my mom woke me up because she was having another seizure.

I took her again to the same vet the next day. They told me the exact same thing. Still the vet was very wishy washy. I really just wanted her to give me an exact answer. YES, put your dog on the medicine. NO, you don't don't need to.

But instead all she could tell me was "Weeellll, if you want to put her on it." "If it was my dog... I might...I might not" "I have a pamphlet I can find for you if you want to read more information on it..."

And they still have no idea what is causing the seizures. Nothing came back in her bloodwork.

Her third seizure occured right after my mom had left for work. This time I wasn't so panicked. I watched the clock. I calmed Gypsie down. She seemed normal. I didn't take her to the vet. Why go back to the vet and pay $50 for an exam when I know that I'm most likely NOT going to put her on the medicine, and I will most likely get the same exact "gray" answers from the veterinarian.

Today was her fourth seizure. And now I'm starting to get very worried. Her seizure and frantic scratches on the floor woke me up and I instantly went out to try to talk to her and calm her down. I know that they say a seizure can seem longer than it is, but this time it really had to have been more than a minute.

I'm not really sure what to do.

Really I just want someone to give me an answer. Tell me what to do. But no one seems to know what to do. They're all suggestions that COULD work, or could potentially hurt my dog even more.

If you have ever met Gypsie then you'll know that she is honestly one of the sweetest, most mellow dogs in the whole world. I'm worried about her. What are these seizures doing to her? Are they damaging her? Are they hurting her?

Today she seems normal already, more hyper than she normally is even. That's how she always is after a seizure. But she's also more needy. Coming up to me for extra pettings, laying under my desk near me rather than staying outside in the backyard all day.

I just want her to be better. I just wish there was a medicine that would help her and wouldn't cause any damage. One that isn't so severe!

I don't know what to do. I guess really all I can do is keep an eye on her and make sure it doesn't get any worse.

Well the vet, and my boss, told me to keep a blog about the seizures. How long they last. How severe. So here I go... this is my first blog... and hopefully my last. But I know that it probably won't be since she's had one just about every month since March...

I decided to do it on myspace. Mainly because it's easier for me to have access to, but also because I could really use the advice and support from my friends right now...
Please let me know if anyone has any other information or websites that would be useful... THANK YOU IN ADVANCE!!!!