Samoyed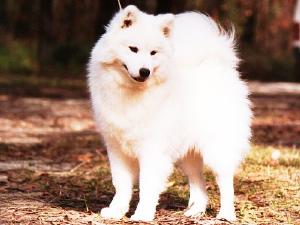 Dog Breed Group

Working Dogs

Origin of Breed

Siberia

Life Expectancy

12 - 14 Years

Color

white, cream-coloured, grayish yellow (biscuit), or white and biscuit

Coat

Heavy coat.

Exercise Needs

Needs reasonable amount of daily exercise which should consist of walks, free exercise in yard or large area and some type of wo

Temperament

The Samoyed is quite independent by nature and therefore its owner must be energetic and a good disciplinarian.

Good with Children

The Samoyed loves children. They will get along with other pets but they prefers children. Special skills include herding, hunti

Grooming Needs

Brushing of his coat two to three times a week is necessary, plus extra care should be taken during bi-annual shedding. Bathe on

Average Size - Male (in)

21 - 23.5

Average Size - Female (in)

19 - 21

Average Weight - Male (lbs)

50 - 65

Average Weight - Female (lbs)

50 - 65

Health Issues

Hip dysplasia, diabetes.v

Living Conditions

Rural or suburban. Will adapt to kennel living if its daily activity involved people. They are unsuited for hot climate because
Breed Description
This breed probably originated in Asia and immigrated later to Europe. Its closest relatives are the Kuvasz and the Newfoundland to which it may have contributed. The breed has been used for centuries to guard flocks in the Pyrenean mountains. It was kept by the Samoyed people as a sled dog and companion and as a herd dog for their reindeer. The Samoyed is a sturdily built, husky-like dog with erect ears, dark, almond-shaped eyes, and a characteristic "smile." Its long, heavy coat is white, cream-coloured, grayish yellow (biscuit), or white and biscuit. It is considered to be a gentle, loyal, and intelligent dog, a capable guard, and a good companion.
Breed Infobits
The Samoyed is a classic sled dog, able to pull heavy loads long distances.
The Samoyed quickly adapts to any situation it finds itself in.
The Samoyed truly appreciates regular exercise, and when fit, will happily run all day in cold climates.
The Samoyed's very thick coat must be thoroughly brushed everyday.
When used as a cold country working dog, the Samoyed responds by displaying its rugged and determined spirit.
Disclaimer: Pets.ca cannot be responsible for the accuracy of the above presented information. Please double check all information prior to making any decisions about purchasing this or any breed. If you think we have made an error with some of the information presented here, please e-mail us at breedprofiles@pets.ca.