Portuguese Water Dog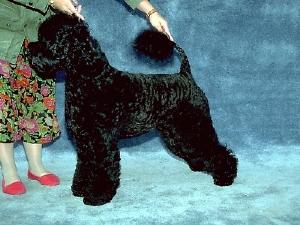 Dog Breed Group

Working Dogs

Origin of Breed

Portugal

Life Expectancy

12 to 14 years

Color

White, Brown, Black,Brown/White, Black/White

Coat

Profuse and thick except under forelegs and thighs

Exercise Needs

They need ample exercise which should consist of free exercise, daily walks or swimming.

Temperament

This breed can have guard dog tendencies. To discourage this tendency training must be started at an early age (ten weeks). An a

Good with Children

Good with children if raised with them and if the children are taught how to treat a dog.

Grooming Needs

Regular brushing and combing of his coat. Weekly cleaning of his ears, especially after swimming.

Average Size - Male (in)

20 - 23

Average Size - Female (in)

17 - 21

Average Weight - Male (lbs)

42 - 60

Average Weight - Female (lbs)

35 - 50

Health Issues

Progressive retinal atrophy, storage disease, hip dysplasia and skin condition.v

Living Conditions

A home with a fenced yard as he is an active dog. The owner of a Portuguese Water Dog needs to take time to exercise, socialize
Breed Description
Once a familiar sight throughout fishing ports of the Iberian Peninsula, and is still commonly found in the Algarve region of Portugal. This breed is a fisherman's dog, a fine swimmer with great endurance undertaking a wide variety of tasks. It will guard the catch, swim between boats and dive and retrieve fish or objects lost overboard.
Breed Infobits
The Portuguese Water Dog has been making itself useful in Portugal for centuries.
It is also known as Cao de Aqua.
The Portuguese Water Dog is just the right size to make it ideal as a companion animal, but still robust enough to also double as a working dog.
The Portuguese Water Dog provides a reliable watch-dog service and quickly becomes a part of the family.
Disclaimer: Pets.ca cannot be responsible for the accuracy of the above presented information. Please double check all information prior to making any decisions about purchasing this or any breed. If you think we have made an error with some of the information presented here, please e-mail us at breedprofiles@pets.ca.